Recipes such as these make my heart jump for joy. They remind me of a time when everything was homemade and ladies would share recipes like it was their job.
This one comes from a very dear friend of mine who I don't get to see nearly enough. More like a second mother than just a pal, Ms. Pam is one of those people who is always taking care of others. If she's not in the pasture riding her horses, working the longhorns and birthing their babies, she's in the kitchen cooking up a big meal for friends and family.
I had it on good authority that this pie is a real crowd pleaser, so I decided it to give it a try this past Fourth of July after C brought home a huge bag full of homegrown tomatoes. And that authority? It was definitely spot-on. Everyone who had a piece devoured it within minutes and luckily for me, there was a slice leftover for the next day's lunch. Perfectly paired with a little green salad, I was in Tomato Pie heaven! 🙂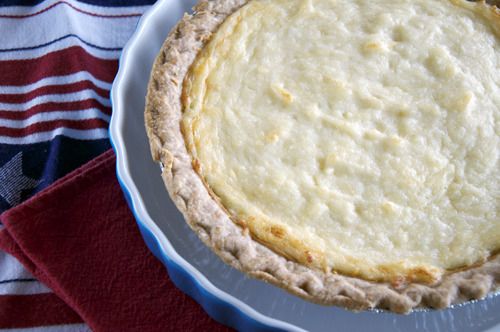 Ingredients
1 deep dish pie shell
3 md homegrown tomatoes
Salt & pepper, to taste
2 tbsp Dijon mustard
4 oz white cheddar
4 oz yellow cheddar
1 c light mayonnaise
3/4 c Parmesan, shredded
Instructions
Bring a medium pot of water to a boil. Remove stems and score tomatoes. Blanch them in the boiling water for a minute or two, watching carefully, making sure they don't begin to cook. Remove the tomatoes from the boiling water and shock them in an ice bath. Remove the skins and discard. Slice tomatoes and drain the excess liquid. Sprinkle with salt and pepper, to taste.
Preheat oven to 350 degrees F. Brush the bottom and sides of your pie shell with the Dijon mustard. Layer tomatoes in the shell and sprinkle with both the white and yellow cheddars. Mix together the mayonnaise and shredded Parmesan, then spread the mixture on top of the tomatoes and cheese. Bake the pie for 30 minutes, or until the topping is brown and bubbly.
http://mybakingheart.com/2012/07/11/ms-pams-tomato-pie/