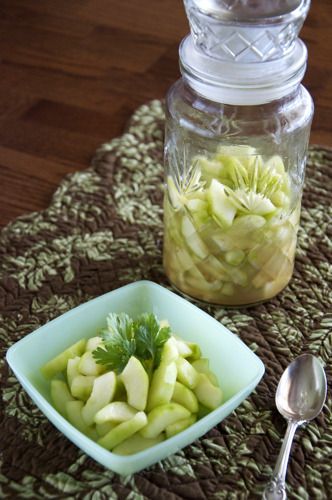 Welcome to FFwD, the weekend edition! Since C and I were busy spending Friday in front of the camera, posing for our engagement photos, I was a bit too busy to get these Ginger-Pickled Cucumbers posted in time.
However, it's a super-simple dish to prepare and one that goes perfectly with any summertime picnic or dinner al fresco. And thankfully, it only takes a few minutes to put together. After arriving home from an early morning of hair and makeup, a balmy shoot on the golf course, two wardrobe changes and recreating a 40s-era kitchen, I was ready to relax! The cucumbers have spent their sweet time in the fridge chilling and tonight, I'm serving them alongside C's favorite… grilled Atlantic salmon.
As for the photos? They were so much fun to shoot. Now, I'm eagerly and anxiously awaiting for Jessica to send me the sneak peeks! And since you all were such a huge part of C and me winning, I'll definitely be sharing them with you, so stay tuned!
#93 – Crunchy Ginger-Pickled Cucumbers (pg. 340)
Source: Around My French Table by Dorie Greenspan