I love when a gorgeous dessert brings everyone together… not only once, but twice. As soon as my July issue of Southern Living arrived in the mailbox, I knew I was making this cobbler. So, I brought it to our weekly 'Bachelorette' watching party and again to my family's 'Fourth of July' dinner last night. This sinful-sounding dessert was perfect for both critiquing Emily's picks and listening to the fireworks show across town. It's sweet and juicy and the Cream Cheese Ice Cream pairs perfectly with the cakey Red Velvet topping of the cobbler. And according to the critics, it's just as good cold as it is warmed up.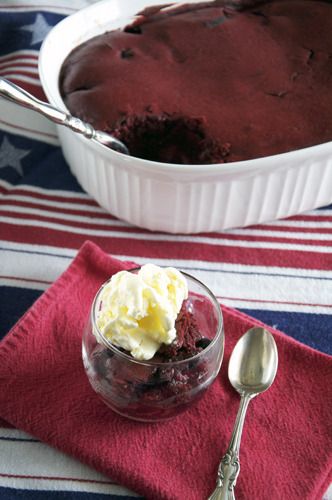 Red Velvet Berry Cobbler with Cream Cheese Ice Cream
Ingredients
For the Red Velvet Berry Cobbler:

1 tbsp cornstarch
1-1/4 c granulated sugar, divided
6 c assorted berries - blackberries, blueberries, raspberries
1/2 c unsalted butter, at room temperature
2 lg eggs
2 tbsp red liquid food coloring
1 tsp pure vanilla extract
1-1/4 c all-purpose flour
1-1/2 tbsp dark cocoa powder
1/4 tsp Kosher salt
1/2 low-fat buttermilk
1-1/2 tsp white vinegar
1/2 tsp baking soda

For the Cream Cheese Ice Cream:

3 c half-and-half
1-1/4 c Confectioners' sugar
2 egg yolks
1 (8 oz) pkg low-fat cream cheese, cubed and at room temperature
2 tsp pure vanilla extract
Instructions
For the Red Velvet Berry Cobbler:
Preheat oven to 350 degrees F. Stir together cornstarch and a 1/2 cup of sugar. Toss berries with cornstarch mixture and spoon into a lightly greased 11" x 7" baking dish.
Beat butter at medium speed with an electric mixer until fluffy; gradually add remaining 3/4 cup of sugar, beating well. Add eggs, one at a time, beating just until blended after each addition. Stir in red food coloring and vanilla extract until blended.
Combine flour, cocoa powder and salt. Stir together buttermilk, vinegar and baking soda in a 2-cup liquid measuring cup (mixture will bubble). Add flour mixture to butter mixture alternately with buttermilk mixture, beginning and ending with flour mixture. Beat at low speed until blended after each addition. Spoon batter over berry mixture. Bake for 45 to 50 minutes or until a wooden pick inserted in the center of cake topping comes out clean. Cool on a wire rack for at least 10 minutes before serving.
For the Cream Cheese Ice Cream:
Whisk together first three ingredients in a large, heavy saucepan. Cook over medium heat, whisking constantly, 8 to 10 minutes or until mixture thickens slightly. Remove from heat and whisk in cream cheese and vanilla extract until cheese is melted. Cool completely (about one hour), stirring occasionally. Place plastic wrap directly on mixture to prevent a film from forming and chill for 8 to 24 hours.
Pour mixture into the freezer container of a 1-1/2 quart electric ice cream maker, and freeze according to manufacturer's instructions. Transfer ice cream to an airtight container and freeze for at least 4 hours before serving.
Source: Southern Living, July 2012
http://mybakingheart.com/2012/07/05/red-velvet-berry-cobbler-with-cream-cheese-ice-cream/