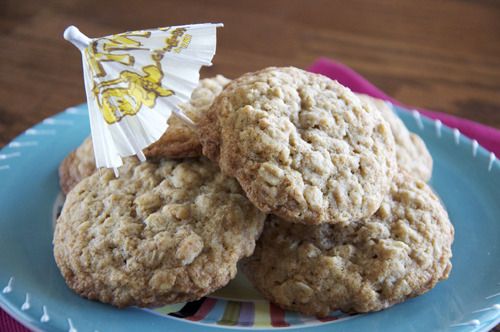 Just a few days until July and Summer is certainly in full swing around these parts. You know the feeling… sticking to your car seats, strands of hair plastered to your forehead, not ten minutes after getting dressed in the morning and your clothes are on their way to becoming soaked with sweat. Days are muggy and the nights aren't any better, when temps here in Texas are still hovering in the high 90s by 10p. It's this time of year when I'm trying to find an air vent blasting chilly air that cookies like these come in handy. They do a fabulous job of feeding my need for a frosty Piña Colada. And even if I'm not poolside, I can still imagine that I am while I'm devouring these!
A tip: don't forget to chill the dough before baking, as your result will be a beautiful cookie that hasn't spread flat like a pancake.
Piña Colada-Oatmeal Cookies
Ingredients
1 c whole-wheat flour
1 c old-fashioned oats
1/2 tsp baking soda
1/4 tsp Kosher salt
10 tbsp unsalted butter, at room temperature
3/4 c Splenda for Baking
2 tsp pure coconut extract
1 tsp pure vanilla extract
2 tsp coconut rum
1 lg egg
Instructions
Preheat oven to 350 degrees F. Line two baking sheets with parchment paper or a silicone baking mat and set aside. Whisk together flour, oats, baking soda and salt and set aside.
In a separate bowl and using a hand mixer on medium speed, beat together the butter and Splenda for Baking until well blended. Add coconut and vanilla extracts and egg; beat well. Gradually add the flour mixture, beating until just blended. Stir in the coconut rum.
Chill dough in the refrigerator for 15-20 minutes. Remove from refrigerator and drop dough by tablespoonfuls approximately 2" apart onto prepared baking sheets. Bake for 10-12 minutes or until lightly browned. After removing from the oven, let cookies cool on baking sheet for 5 minutes, then place them on a wire rack to cool completely.
Heavily adapted from: Peanut Butter & Peppers
http://mybakingheart.com/2012/06/27/pina-colada-oatmeal-cookies/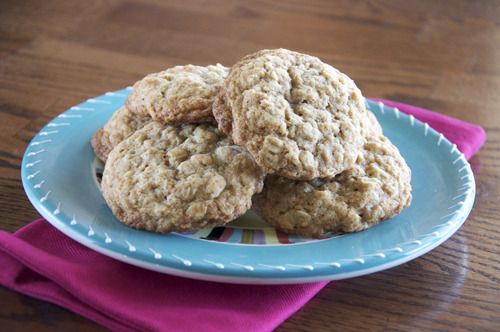 Keep cool!