A huge 'thank you' to those who entered the OXO Salad Dressing Shaker giveaway this week! I have a few giveaways in the works, so keep your eyes out as I announce more fun prizes in the future!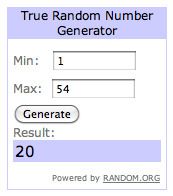 So, without further adieu… Melissa of 'I Was Born to Cook' is the lucky winner! Her follow of OXO on Twitter has earned her a seriously cool tool in the kitchen world! Check your inbox, Melissa – I'll be sending you an email ASAP!
And thanks again to the great people of OXO for sponsoring!
Have a fabulous weekend! 🙂