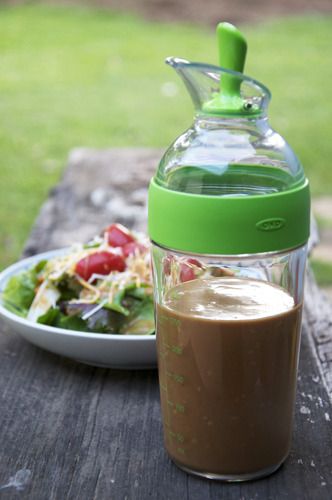 One of my all-time favorite salads is the 'Asian Sesame Chicken' from Panera Bread. It's filling, healthy and not a huge splurge when it comes to counting my daily Weight Watchers points.
It's also a salad I've tried recreating at home in the past. And while surfing sites the other night, I was lucky enough to come across the recipe from the original creators. With this post, though, I've added a few ingredients so that the end result has a nuttier taste. I could seriously drink this dressing by the glassful, it's that good.
So, when I was generously given the opportunity to test drive one of OXO's newest products (the fab Salad Dressing Shaker seen above), I knew this was the perfect dressing to start with. And the best part about it, is the ease of use. Prepare, serve and store all in the same sleek bottle… it goes from fridge to table and is even dishwasher-friendly! The wide opening accommodates a range of ingredients and the airtight, watertight and leakproof seal accompanies a one-handed open/close lever that easily flips back to pour.
You're wanting one right about now, am I correct? Well, good news there, because I received an extra one to give away to one lucky MBH reader! Just leave a comment below and you're entered. Tell me what dressing you'd make with the shaker or just say howdy! 🙂
And if you'd like extra entries, complete any or all of the following tasks and leave a separate comment for each:
Contest is open to U.S. residents only until Wednesday, June 20th, 2012 at 11:59 pm CST. One winner will be randomly chosen by random.org and announced by Friday, June 22nd.
Asian Ginger-Sesame Dressing
Ingredients
1/4 c smooth peanut butter
1/4 c rice vinegar
1/4 c toasted sesame oil
2 tbsp less-sodium soy sauce
1 tsp toasted sesame seeds
1 tsp crushed red pepper flakes
1 tbsp ground ginger
3/4 c canola oil
Instructions
Pour all ingredients into a shaker and combine. Break up the mixture with a fork or small whisk, if needed.
If you're without a shaker, combine all ingredients except canola oil in a medium mixing bowl with a wire whisk. Once ingredients are combined, slowly pour in the oil while whisking to form an emulsion.
Adapted from: MyPanera.com
http://mybakingheart.com/2012/06/15/asian-ginger-sesame-dressing-and-oxo-giveaway/

Disclosure: I received two Salad Dressing Shakers from OXO for purposes of a review (one to keep and one to giveaway). All photography and opinions are my own.