I first posted these muffins back in 2009. Since then, my photography has greatly improved, so I thought I would begin updating some of my older posts with new photos, starting with a favorite. And as I originally mentioned below, it's also one of my sister's… making this recipe a popular one year-round!
The first day of Fall has passed, and I'm so happy with the 60-degree weather it brought with it. This is my absolute favorite season and I couldn't be more excited for the next few weeks ahead. I've even put up my Halloween decorations (yep, you read it right!). So, when my little sister asked me to make these Pumpkin-Chocolate-Chip muffins, I gladly said yes. Fortunately, today's her 24th birthday… so I made these muffins as a little treat for breakfast this morning. Perfect to go along with our 8:30am Starbucks!
Happy Birthday, R… I'm beyond blessed that you're my sister, but I'm incredibly lucky to call you my best friend, as well. I love you, Toot!! 😉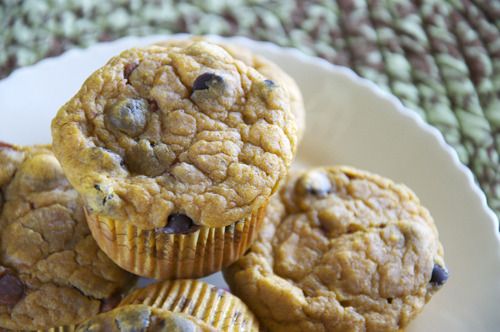 Pumpkin Chocolate-Chip Muffins
Ingredients
1 c all-purpose flour
1/2 c whole-wheat flour
2 tsp baking powder
1 tsp ground cinnamon
1/4 tsp Kosher salt
1 c canned pure pumpkin puree
2 lg eggs
1/2 c light brown sugar, packed
1/2 c skim milk
1/3 c canola oil
1 tsp pure vanilla extract
1/2 c cinnamon chips
1 c dark chocolate chips
1/2 c chopped pecans
Instructions
Preheat the oven to 350 degrees F. Line a 12-cup muffin pan with liners and set aside.
Whisk together the flours, baking powder, cinnamon and salt in a medium bowl. In another large bowl, whisk the pumpkin, eggs, brown sugar, milk, oil and vanilla, then fold in the flour mixture until just moistened. Then add in chips and pecans.
Spoon the batter evenly into the prepared muffin cups. Bake until a toothpick inserted into the center comes out clean, about 20-23 minutes. Transfer the pan to a wire rack and cool for 5 minutes. Remove the muffins and cool an additional 5 minutes before serving.
http://mybakingheart.com/2012/06/12/pumpkin-chocolate-chip-muffins/