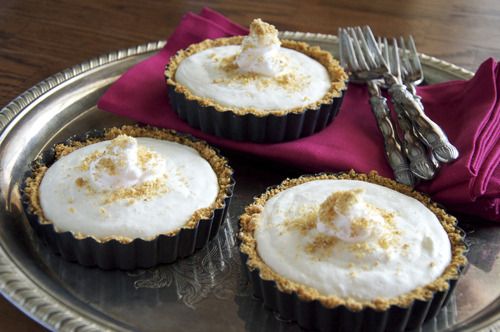 It's your newest Kraft COOL WHIP Brand Ambassador here! And I've got a super quick & easy dessert recipe that is appropriate for any Summer get-together, cookout, wedding shower, brunch and even those hurried weeknight dinners.
These Mini Meyer Lemon Cream Pies combine the smoothness of COOL WHIP Whipped Topping and the tart, tangy and sometimes sweet flavor of Meyer lemons. It's a fun dessert full of bright colors and flavors… and one that the kiddos will love to help prepare! The filling can be made a day or two ahead and the crusts bake up in less than 10 minutes… talk about easy!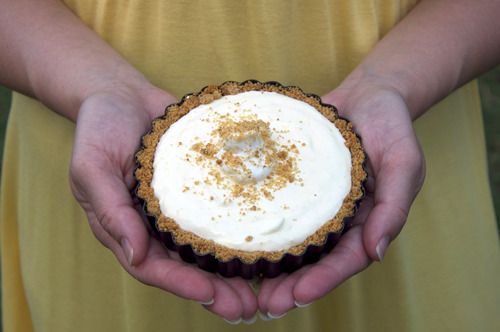 Mini Meyer Lemon Cream Pies
Ingredients
1-1/4 c graham cracker crumbs
1 tbsp Splenda for Baking
5 tbsp unsalted butter, melted
3 (8 oz) containers COOL WHIP Free whipped topping
Grated zest and juice of 4 Meyer lemons
1/2 c Confectioners' sugar
Instructions
For the crust:
Preheat oven to 350 degrees F. In a medium bowl, mix together the graham cracker crumbs, Splenda for Baking and the melted butter. Press the mixture into the bottom and sides of four tartlet molds or 4-ounce ramekins. Set aside any remaining crumbs to be used before serving. Bake until golden brown, 8 to 10 minutes. Remove from oven and let cool completely.
For the filling:
In a large bowl, using a hand mixer, combine 2-1/2 containers of COOL WHIP Free, lemon zest & juice and the Confectioners' sugar until smooth. Spoon the mixture into the crusts and refrigerate for at least an hour. Using the extra 1/2 container, top each mini pie with a dollop of COOL WHIP Free and any extra graham cracker crumbs before serving.
http://mybakingheart.com/2012/06/01/mini-meyer-lemon-cream-pies-featuring-cool-whip-whipped-topping/
One more thing… COOL WHIP is offering a 'Fan Dessert of the Month' Contest on Facebook where each month's winner will win a cool $500! Simply 'Like' COOL WHIP on Facebook, make a COOL WHIP-inspired dessert, take a photo and upload it to COOL WHIP's page! How fun!
What you add makes it. #coolwhipmoms

Disclosure: As part of the Foodbuzz Tastemaker Program, I received coupons for free COOL WHIP Whipped Topping and a stipend. Sponsored posts are purely editorial content that we are pleased to have presented by a participating sponsor. Advertisers do not produce the content. All photography and opinions are my own.