Thank goodness for second chances. This recipe was originally scheduled for May 8th, but because I've got about 90 things going on at the minute, I'd told myself that it was due on May 15th. But if you recall, May 15th featured those sinful Pecan Sticky Buns. Thus, I was behind. So, today is a TWD 'Third Tuesday', a chance for us bakers to post a dish that we'd missed in the past! Mine, of course, is this beautiful (and easy!) Hungarian Shortbread.
The dough comes together quickly and then spends a quick 30 minutes chilling in the freezer. Once it's cold enough, you grate the dough into the pan using a box grater. Surprised, right? It does sound strange, but this technique gives the dough an almost softer, finer texture once it hits the tongue. My grater, however, has some abnormally small holes… which is why it looks as if I sprinkled shredded Parmesan on top. 🙂
I also had a little problem with the dough warming up too quickly. Between my warm hands and the short time it spent chilling in the freezer, the dough started crumbling to pieces before I had a chance to grate it all into the pan… resulting in thin pieces. Nevertheless, the shortbread was still a big hit and I've even got a bit of extra dough stored in the freezer to use in the next few weeks. Anyone for a bite?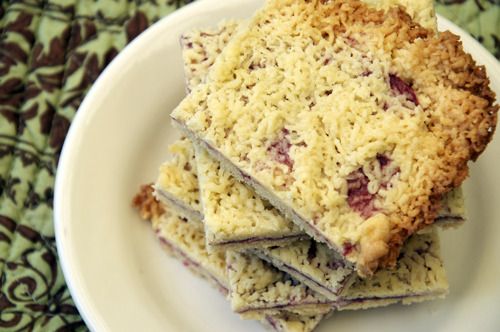 Hungarian Shortbread (pg. 327)
Source: Baking With Julia by Dorie Greenspan
Our original hostesses for this recipe are Lynette of 1smallkitchen and Cher of The Not So Exciting Adventures of a Dabbler…, whose blogs should have the recipe posted. And for a list of 'Third Tuesday' bakers, click over to the 'Leave-Your-Link' post!