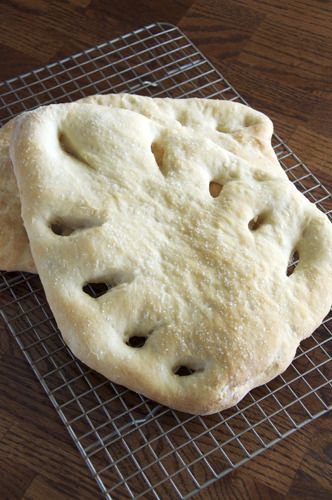 This is what happens when you just know deep-down in your heart, in the recesses of your mind, that you have a jar of olives in your pantry. You start the yeast, gather your dry ingredients and then notice that not only do you not have the olives you needed, but you don't have anything remotely close to them lying around. That's when you decide to go rogue on Dorie and create your own Fougasse. 🙂
Substituting the freshly-minced garlic of two cloves for those darn olives, I created a Provençal Garlic Fougasse. I'm sure the lovely people of Provence would be thrilled with it, too (not). Oh well… it turned out to be some of the best bread I've ever baked up. The yeast cooperated wonderfully and the lemon zest paired perfectly with the garlic. All in all, I'd say it was a win!
Click over to the FFwD 'Leave-Your-Link' post for a list of the Doristas who participated this week… with the proper ingredients, I'm sure!
#85 – Provençal Garlic Fougasse (pgs. 48-50)
Adapted from: Around My French Table by Dorie Greenspan