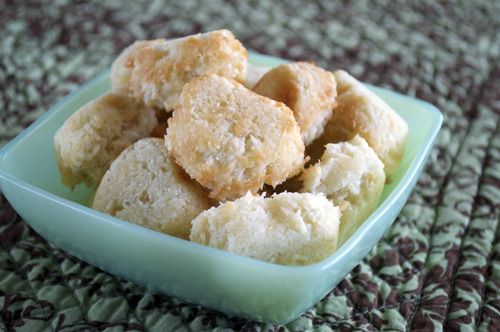 Shredded coconut is not a friend of mine. It's tropical scent sends me to my knees, but the texture completely turns me off. So, when this recipe rolled around, I knew that I'd be gifting these to a lucky little neighbor of mine.
Turns out, Momma G loves coconut. And I mean, she loves it… with a capital 'L'. Remember that Italian Cream Cake I posted last September? That was her birthday dessert. So when she tasted these Coconut Friands, she jumped for joy and compared them to something like a macaroon. The batter for these is definitely an unconventional one for a 'cookie' (beginning with four egg whites, a lot of shredded coconut, a little sugar and a tablespoon of flour), but the result is just adorable… especially in the shape of tiny golden hearts. 🙂
#82 – Coconut Friands (pg. 456)
Source: Around My French Table by Dorie Greenspan
To see how the other Doristas' friands fared, click over to the 'Leave-Your-Link' post for a list of blogs!