No matter if you've followed the blog for a few months or for a few years, you've come to realize that C loves his brownies. It's a constant request around the house. If I step one foot in the kitchen, I'm asked, "Are you making brownies?" Of course, with a request such as that, I tend to (weekly) scour cookbooks and blogs for different brownie recipes to try. I gotta keep up with what's hot!
We have our favorites of course, but not one that stands out as an absolute. So, when I saw this one from sweet Susan, of Create Amazing Meals, I knew it was a must-try… especially since she's been baking them up for over 25 years. You know they must be good!
Aunt Kak's 'Cream Cheese Brownies'
Ingredients
5 tbsp unsalted butter, divided
4 oz bittersweet chocolate
3 oz fat-free cream cheese, softened
3 lg eggs
1 tsp pure vanilla extract
1 c granulated sugar, divided
1/2 c + 1 tbsp all-purpose flour, divided
1/2 tsp baking soda
1/4 tsp Kosher salt
1/4 c mini chocolate chips
Instructions
Preheat oven to 350 degrees F and spray a 9" square pan with non-stick baking spray. In a small saucepan, melt 3 tablespoons of butter and the bittersweet chocolate on low, stirring occasionally. Set aside to cool.
In a stand mixer fitted with the paddle attachment, beat the cream cheese and remaining 2 tablespoons of butter together. Scrape down the sides of the bowl and add 1 egg, vanilla extract, 1/4 cup of sugar and 1 tablespoon of flour. Continue to beat until fully blended. Set aside.
In a medium bowl, beat together the remaining 2 eggs and 3/4 cup of sugar. Scrape down the sides of the bowl and stir in the remaining 1/2 cup of flour, baking soda and salt. When fully blended, fold in the cooled, melted chocolate mixture.
Pour half of the chocolate batter into the bottom of the pan, spreading it evenly. Cover with the cream cheese batter and sprinkle the mini chocolate chips evenly across. Top with the remaining chocolate batter and blend back and forth with the flat side of a knife until marbled. Bake for 35-40 minutes, depending on your oven.
Adapted from: Create Amazing Meals
http://mybakingheart.com/2012/04/13/aunt-kaks-cream-cheese-brownies/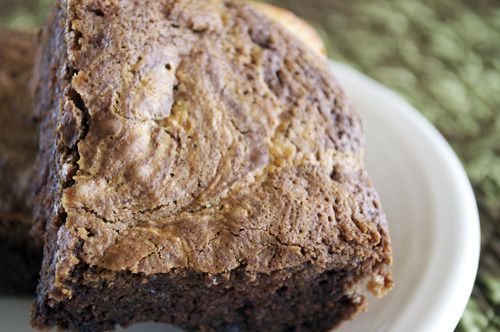 Just look at that swirl! 🙂