Need a quick, weeknight dinner idea? Then look no further, folks.
C is away on business, so it's just little ol' me around the house this week. And when I'm only cooking for one, I don't like to make huge dinners that will go to waste. The best part about this casserole is that the leftovers are even better than the first dish! And I don't feel guilty for eating it because it's made healthier with the substitutions of skim milk, fat-free sour cream and whole-wheat bread. There's even enough to take for lunch the next afternoon!
It's fast, nutritious and very filling. Perfect for a Tuesday night! 😉
Chicken, Spinach & Noodle Casserole
Ingredients
6 tbsp unsalted butter
1/4 c all-purpose flour
4 c skim milk
1 c fat-free sour cream
2 tsp Kosher salt
1/2 tsp freshly-ground black pepper
1 (12 oz) pkg egg noodles
4 slices whole-wheat bread
2 c cooked chicken or rotisserie chicken, shredded
5 oz fresh baby spinach leaves
1 tbsp garlic powder
Instructions
Heat oven to 400 degrees F. Melt 4 tablespoons of butter in a large saucepan over medium heat. Add the flour and cook, stirring, until foamy, 1 to 2 minutes (do not let mixture darken). Slowly whisk in the milk. Bring to a simmer and cook, whisking often, until thickened, 3 to 5 minutes. Remove from heat and whisk in the sour cream, 2 teaspoon of Kosher salt and 1/2 teaspoon of black pepper.
Meanwhile, cook the noodles according to the package directions; drain and return them to the pot. Pulse the bread in a food processor until coarse crumbs form. Melt the remaining 2 tablespoons of butter in a microwave-safe bowl.
Add the milk mixture, chicken, spinach and garlic powder to the noodles and toss to combine. Transfer to a 13"x9" baking dish, sprinkle with the bread crumbs and drizzle the melted butter across the top. Bake until the bread crumbs are golden and the filling is bubbling, about 8 to 10 minutes. Let cool for 5 minutes before serving.
Adapted from: Real Simple
http://mybakingheart.com/2012/04/10/chicken-spinach-noodle-casserole/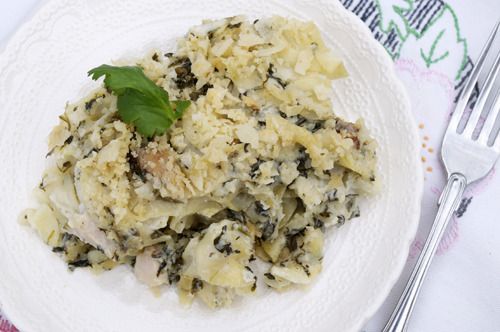 There's one more day left in my Gorton's 'Fisherman's Friday' Giveaway… have you entered yet?