I'm a super procrastinator. I mean, I could win an award for it. But, I've come to realize that I just work better under pressure. So, at 5 o'clock yesterday evening and under the threat of rain (i.e., no pretty, natural light left), I headed home to get dinner ready. I just knew I had waited too late to make this special, but it ended up only taking an hour to put together. I replaced the prosciutto with bacon, added in spinach and garlic and popped it in the oven. Fifty minutes later, the clouds had cleared and I had perfect light to shoot this little beauty.
The eggs really overpowered the bacon, spinach and cheese, so it tasted more like a quiche than a pizza. And obviously, I have a lot of practice ahead of me when it comes to lattice crusts. However, both C and Dad went back for seconds, so I guess that's a good sign. 😉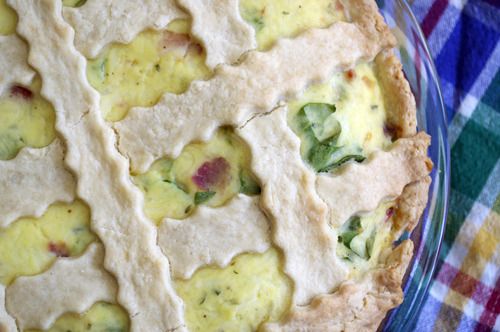 Pizza Rustica (pg. 430-431)
Source: Baking With Julia by Dorie Greenspan
Hostesses for the week are Emily of Capital Region Dining and Raelynn of The Place They Call Home. They'll have the recipe posted on their blogs and for a list of Doristas who were a part of the pizza party, check out the 'Leave-Your-Link' post!