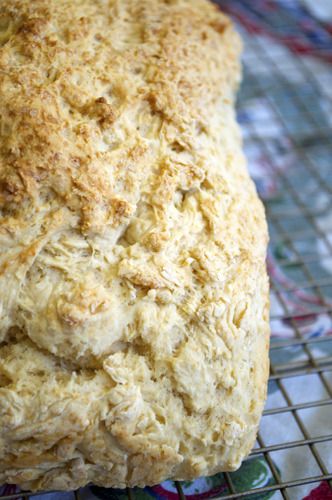 Hello. My name's Jessica and I'm addicted to bread. Sound familiar? I've been on this bread-baking kick for the past few weeks. Loaves of Irish Soda Bread here, loaves of whole-wheat bread there. It's one of my favorite things to make (and obviously, eat). However, I'm afraid that it's beginning to show… as in, my jeans feel a little tighter than they should.
This loaf, though, is fool-proof. You don't have to worry about yeast, wait on a rise or even shaping the dough correctly. It's wonderful (and so timely) for a weeknight meal, but tastes like you spent all day on it! Now, if you'll excuse me, it's time to hit the gym. 🙂
Cheesy Blonde Lager Bread
Ingredients
Instructions
Preheat oven to 375 degrees F. Lightly grease a 9"x5"x3" loaf pan and set aside. Whisk together the flour, baking powder, salt, sugar and cheese. Pour the bottle of beer on top and combine ingredients, mixing well with hands or a wooden spoon. Place dough into prepared loaf pan and bake for 1 hour. Loaf is ready when a hollow sound is made when tapped. Let cool completely before slicing.
Source: My Baking Heart
http://mybakingheart.com/2012/03/28/cheesy-blonde-lager-bread/