When life hands you lemons, you make lemonade, right? Well, when you're dealt a cookie dough that won't hold together, what do you do then? You make a chocolate tart!
Since yesterday was a dreary, depressing day, I needed a pick-me-up and rushed home after work to get started on these. I let the butter come to room temperature, whisked my dry ingredients together and begin preparing the dough. I tried my hardest to get it to stick and once I thought it was going to stay, I placed both logs in the refrigerator to chill while I waited in line to see the 12:06am showing of The Hunger Games (yes, I'm one of those gals!). I thought the logs would be ready to slice by the time I got home (at 3:15!), but boy, was I wrong. I went over the recipe two, three (even four) times and after an overnight spent in the freezer, the dough was still crumbly. Sandy and fine… I didn't think the meaning of sablé would be so literal when it came to this dough. 😉
So, I whipped up a small batch of chocolate pudding, pressed the sablé dough in the bottom of a springform pan and placed it in the oven for about 20 minutes. Once it was cool, I topped it with the pudding and stuck it in the freezer once more. It's a chilly, chocolatey and absolutely perfect dessert. Crisis averted!!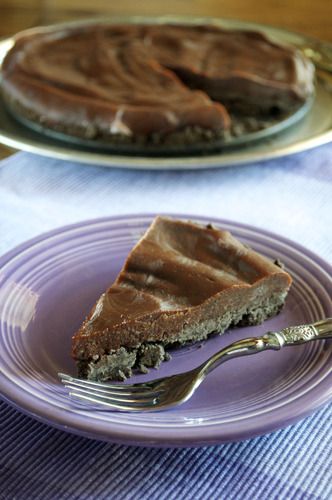 #78 – Cocoa Sablé Tart (pg. 402)
Adapted from: Around My French Table by Dorie Greenspan
To see what these sweet little cookies should look like, click on over to the FFwD 'Leave-Your-Link' page for a list of those who were far more successful!