These past four weeks have completely flown by and I can't believe we're already at the end of our Spring Campaign. Working with the Texas Beef Council is a dream and I want to thank them for this fabulous opportunity they've provided me with. My fellow 'Beef Loving Bloggers' are a group of uber-talented ladies and I'm truly honored to be in their company, as well: Arena of The Nerd's Wife, Brenda of Meal Planning Magic, Christina of A Closet Writer, Crystal of Crystal & Co., Amy of Mom's Toolbox, Lori of A Day in Motherhood, Allie of Screwed Up Texan and Trista of Mommy Upgrade. And of course, Holly of June Cleaver Nirvana… many, many thanks for hostessing in such a lovely manner!
This week's category is 'Nutritious Beef Inspirations' from our own kitchens. My dish? These fabulous Korean Beef Lettuce Wraps! If you're a fan of P.F. Chang's (or Pei Wei's) Lettuce Wraps, then here's a weeknight dinner you'll absolutely love. It features good ol' Texas beef, cooked with garlic, brown sugar and soy sauce. So delicious, you'll head back for seconds and even thirds. Let's put it this way… C ate about 8 the first time I made them. 🙂
For a round-up of original dishes from my fellow 'Beef Loving Bloggers', click over to Holly's site and have a look!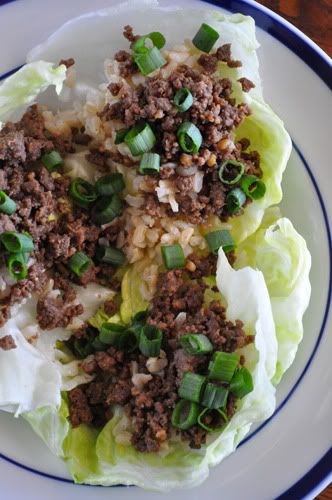 Korean Beef Lettuce Wraps
Ingredients
2 tbsp sesame seed oil
1 lb lean ground beef
3 cloves garlic, minced
1/2 c light brown sugar
1/4 c low-sodium soy sauce
1/2 tsp fresh ginger, minced
Kosher salt and fresh ground pepper
1/2 tsp crushed red pepper
4 c brown Basmati rice, cooked
1 head Iceberg lettuce, leaves removed & cut into pieces
1 bunch green onions, diced
Instructions
Heat a large skillet over medium heat. Add the sesame seed oil and brown beef with garlic. Drain most of the fat and add brown sugar, soy sauce, ginger, salt and pepper and crushed red pepper. Simmer for a few minutes to blend the flavors.
Divide into four servings, line plates with lettuce leaves and top with steamed rice, then beef. Sprinkle green onions over the top and serve.
Source: 'My Baking Heart' original recipe
http://mybakingheart.com/2012/03/15/healthy-meals-to-fuel-the-family-featuring-texas-beef-week-4-nutritious-beef-inspirations-from-my-kitchen-korean-beef-lettuce-wraps/

Disclosure: I am participating in a four week campaign with the Texas Beef Council and am being compensated. All photography & opinions are my own. Recipes are courtesy of the Texas Beef Council.