I first met Krystal (of Mrs. Regueiro's Plate) a few years ago via the 'What's Cooking' board on the Nest. She was a sweetheart then and she's even sweeter now. After traveling to San Francisco for the Foodbuzz Festival last November, I had the amazing opportunity to meet her in person. And this May, she and her husband Eric will become parents to a precious new baby!
So, today, a group of Nesties and I are throwing Krystal & Eric a Virtual Fiesta Baby Shower… complete with a mix of Filipino & Cuban dishes, nodding to both of their cultural backgrounds. My contribution? Champorado, a Filipino Chocolate Rice Porridge (or pudding). Not one to be a big fan of rice pudding, I thought I'd jump out of my comfort zone for a bit and try this for Krystal's sake. I mean, it's got chocolate in it… how bad could it be?!
It was easy to make and inevitably, yummy to eat. I was incredibly surprised as I took my first bite, then a second and a third… next thing I knew, I had finished the entire bowl! This is definitely a dangerous thing for me – chocolate and carbs!! 🙂
Champorado (Chocolate Rice Porridge)
Adapted from: Jun-Blog
1 c basmati rice, rinsed and drained
5 c water
6 oz dark semisweet chocolate, preferably 60% cocoa
1/3 c sugar
1 c skim milk
Melt the chocolate in a double boiler or in a metal bowl set on top of a pot of simmering water.
Meanwhile, bring rice and water to a boil in a medium saucepan over high heat. Reduce the heat to medium-to-low and let the rice simmer gently. After 15 minutes, add melted chocolate and sugar and whisk vigorously until everything is thoroughly combined. Let the rice simmer for a while longer until it is cooked, another five minutes or so.
Serve either hot or chilled with a generous drizzle of milk.
Looks like a big ol' bowl of Cocoa Rice Krispies, right??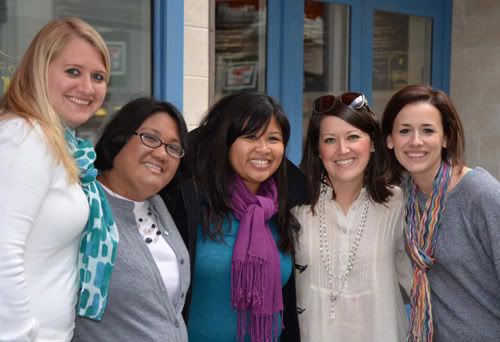 I am super-excited for both Krystal and Eric! I can't wait for Cookie's arrival, whether boy or girl… however, I have this strange feeling that she's going to be beautiful! 😉
Click over to Joelen's blog, 'What's Cookin', Chicago?' for a round-up of all the delicious dishes that are a part of Krystal's baby shower!!