Week Two is here! And this time, the Beef-Loving Bloggers and I are featuring Healthy Main-Dish Salads. This 'Sirloin with Sugar Snap Peas & Pasta Salad' is incredibly delicious and super easy. Another dish that takes mere minutes to complete… add it to your weekly repertoire for those busy nights and you'll have no complaints! It's spicy, tart and absolutely perfect for Spring!
Click over to our hostess Holly's blog for the links to all our dishes and for tons of information about healthy eating, along with tips on how to incorporate proper nutrition into your breakfast, lunch and dinner!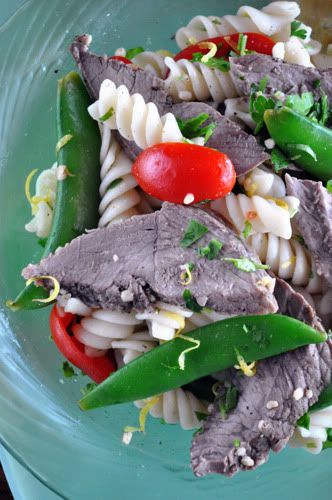 Sirloin with Sugar Snap Peas & Pasta Salad
Source: Healthy Beef Cookbook by the Texas Beef Council
1 boneless beef top sirloin steak, cut 3/4 inch thick
2 c fresh sugar snap peas
2 c cooked corkscrew pasta
1 c grape tomatoes, cut in halves
3 cloves garlic, minced
1 tsp black pepper
Freshly grated lemon peel
Chopped fresh parsley (optional)
Gremolata Dressing
1/4 c fresh lemon juice
2 tbsp olive oil
2 tbsp chopped fresh parsley
2 cloves garlic, minced
2 tsp freshly grated lemon peel
1/4 tsp Kosher salt
1/8 tsp black pepper
Bring water to boil in large saucepan. Add peas; cook 2 – 3 minutes until crisp-tender. Drain; rinse under cold water. Combine peas, pasta and tomatoes in large bowl. Set aside.
Whisk Gremolata Dressing ingredients in small bowl until well blended. Toss 2 tablespoons dressing with pasta mixture. Set aside.
Combine 3 cloves minced garlic and 1 teaspoon pepper; press evenly onto beef steak. Place steak on rack in broiler pan so surface of beef is 2 – 3 inches from heat. Broil 9 – 12 minutes for medium rare (145 degrees) to medium (160 degrees) doneness, turning once.
Carve steak into thin slices; season with salt, as desired. Add steak slices and remaining dressing to pasta mixture; toss to coat evenly. Garnish with lemon peel and parsley, if desired.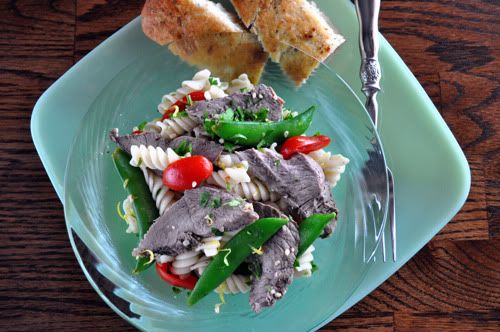 Don't forget about your invitation to our Spring Twitter Party on March 6 from 8-9p (CST)! Five days from now, we'll talk all things healthy and of course, beef! Click on the image below to RSVP to the Texas Beef Council (@TXBeef) and don't forget that all important hashtag, #TXBeef! 🙂

Disclosure: I am participating in a four week campaign with the Texas Beef Council and am being compensated. All photography & opinions are my own. Recipes are courtesy of the Texas Beef Council.