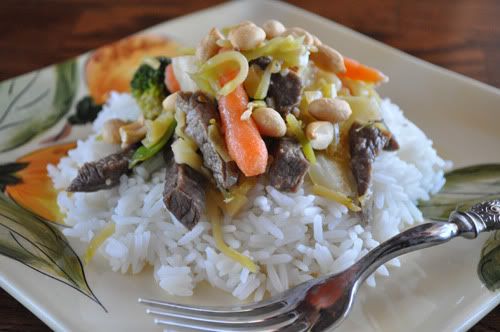 I am so excited to be working with the Texas Beef Council again this year! My fellow Beef-Loving Bloggers are at it again – Arena of The Nerd's Wife, Brenda of Meal Planning Magic, Christina of A Closet Writer, Crystal of Crystal & Co., Amy of Mom's Toolbox, Lori of A Day in Motherhood, Allie of Screwed Up Texan, Trista of Mommy Upgrade and Holly of June Cleaver Nirvana, our lovely hostess!
The focus of the Spring Campaign is 'Healthy Meals to Fuel the Family,' so to start off our first week, we're all featuring dinners that are rich in nutrients! For last Saturday night's dinner, C and I enjoyed this yummy Szechuan Beef Stir-Fry. It features tender steak and fresh veggies on a bed of fluffy white rice. Easy to make, takes no time at all… just perfect for a busy weeknight meal!
Click over to Holly's blog for the links to all our dishes and for tons of information about healthy eating, along with nutrition & recipe tips for the kiddos!
Ingredients
2 (8 oz) beef shoulder center steaks (Ranch Steaks), cut 3/4 inch thick
1 c teriyaki marinade
1 (10 oz) pkg fresh vegetable stir-fry blend
1/2 md green cabbage, chopped
6 tbsp water
1 clove garlic, minced
1-2 tbsp sesame seed oil
2 c hot cooked white or brown rice, prepared without butter or salt
1/4 c dry-roasted peanuts
Instructions
Cut beef steaks into 1/4-inch thick strips and place in a Ziploc bag with the teriyaki marinade. Refrigerate for 1 to 2 hours.
Once the meat has marinated long enough, combine vegetables and water in large nonstick skillet; cover and cook over medium-high heat 8 minutes or until crisp-tender. Remove and drain vegetables. Set aside.
Heat same skillet over medium-high heat until hot. Add 1/2 of beef and 1/2 of garlic; stir-fry 3 to 4 minutes or until outside surface of beef is no longer pink. Remove from skillet; keep warm. Repeat with remaining beef and garlic.
Return all beef and vegetables to skillet. Add sesame seed oil; cook and stir 1 to 2 minutes or until heated through. Spoon over rice. Sprinkle with peanuts.
Adapted from: Healthy Beef Cookbook by the Texas Beef Council
Notes
Four cups assorted fresh vegetables, such as sugar snap peas, broccoli florets, bell pepper strips and shredded carrots, may be substituted for 1 package vegetable stir-fry blend. Your favorite stir-fry sauce flavor may be substituted for the teriyaki marinade.
http://mybakingheart.com/2012/02/23/nutrient-rich-suppers-szechuan-beef-stir-fry/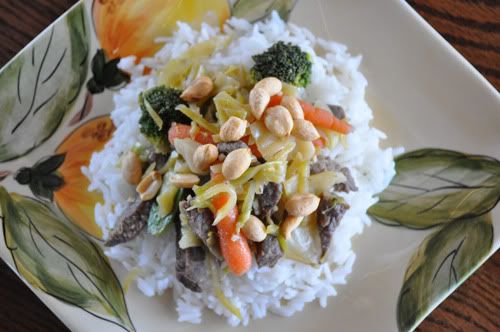 You're also invited to our Spring Twitter Party on March 6 from 8-9p (CST)! We'll talk all things healthy and of course, beef! Click on the image below to RSVP to the Texas Beef Council (@TXBeef) and don't forget that all important hashtag, #TXBeef! 🙂

Disclosure: I am participating in a four week campaign with the Texas Beef Council and am being compensated. All photography & opinions are my own. Recipes are courtesy of the Texas Beef Council.