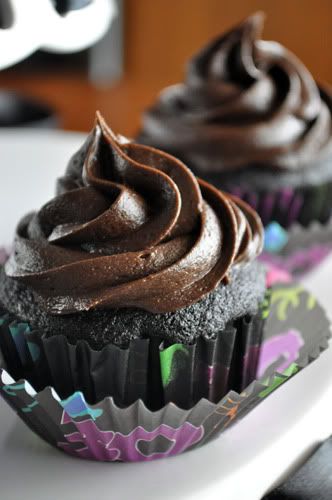 Old. Over the Hill. The 'death' of my youth. And, according to my younger sister, "disgusting." Yep, today I'm 30. Ewww.
I've dreaded awaited this day for quite a while now. Not only emotionally, but physically, as well. I've shared the last year with you in my infamous '30 Before 30′ list. I ran a half-marathon (and lost two toenails because of the damn thing). I made doughnuts and graham crackers from scratch. I played golf with C and learned to sew (although, I didn't get to share these things with you). I patiently waited while the lemons & vodka of my limoncello infused together. But without a doubt, the most meaningful thing that happened to me this past year was getting engaged to my true love. Recipes come and go, but getting to spend the rest of my life with C means the world.
We're on a business trip this week, so to celebrate, I brought these cupcakes to work last Monday… with cupcake liners & candles that were purchased last March. See? I told you I'd been waiting for this day. And the dessert of choice? Black Velvet Cupcakes… you know, black because it's a time to mourn. 🙂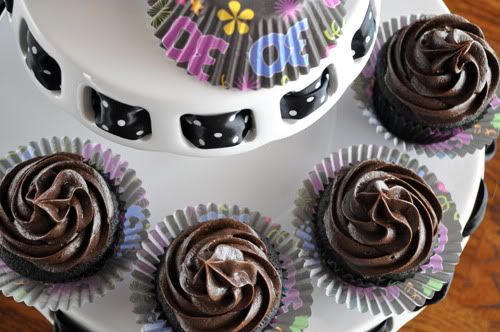 Black Velvet Cupcakes with Chocolate Cream Cheese Frosting
Ingredients
For the Cupcakes:

2-1/2 c sifted, unleavened cake flour
3 tbsp dark cocoa powder
1-1/2 teaspoons baking powder
12 tbsp unsalted butter, at room temperature
1 c Splenda for Baking
2 lg eggs, at room temperature
1 lg egg yolk, at room temperature
1 tsp pure vanilla extract
1/2 tsp Kosher salt
1 oz black food coloring
3 tbsp lukewarm water
1 c lowfat buttermilk, at room temperature
1 tsp baking soda
1 tbsp apple cider vinegar

For the Frosting:

1 (8 oz) pkg low-fat cream cheese, at room temperature
12 tbsp unsalted butter, at room temperature
1/2 c dark cocoa powder
4 c Confectioners' sugar
Instructions
For the Cupcakes:
Preheat oven to 350 degrees F. Line two muffin tins with paper liners and set aside. In a large bowl, sift together the cake flour, cocoa, and baking powder and set aside.
In a standing mixer, set on medium speed, beat together the butter and sugar until light and fluffy. Beat in the eggs and egg yolk one at a time, beating well after each addition. Beat in the vanilla and salt. Beat in the black food coloring, then the water, using a rubber spatula to scrape down the sides of the bowl, until well blended.
Using the lowest speed, beat in the flour mixture alternately with the buttermilk, for a total of 4 additions, ending with buttermilk and blending well. In a glass measuring cup, dissolve the baking soda in the vinegar. Pour in and beat on medium speed until just blended, about 10 seconds, scraping down the sides of the bowl as needed. Do not overbeat. Turn into the prepared muffin tins, filling each one 3/4 full.
Bake tins, one at a time, on the middle oven rack until a toothpick inserted in the center of a cupcake comes out almost clean, 22-25 minutes. Let the cupcakes cool in the pans for about 10 minutes, then remove to a wire rack to cool completely.
For the Frosting:
While the cupcakes are cooling, beat cream cheese, butter and cocoa powder until combined. Add the Confectioners' sugar a 1/2 cup at a time, making sure to incorporate it fully before you add the next 1/2 cup. Frost each with chocolate cream cheese frosting and serve! Makes enough for one (two-layer) cake or 24 cupcakes.
Adapted from: Urban Comfort & So Tasty, So Yummy
http://mybakingheart.com/2012/02/22/30-before-30-the-big-day/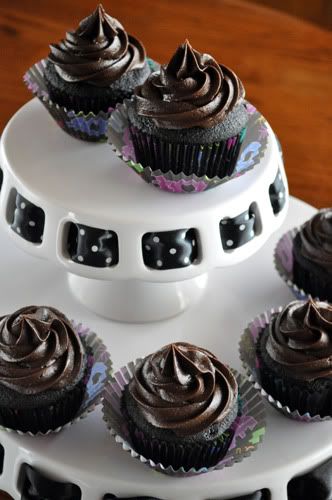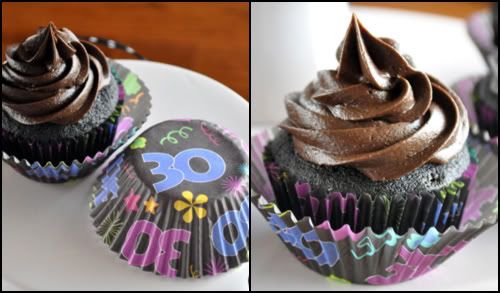 The last ten years were a lot of fun and filled with things that I never imagined possible, so I hope the next ten will be as fabulous as everyone makes them out to be. And while I didn't exactly complete my list, I'm excited about what I did accomplish. Heck, there's always this year!
Goodbye, twenties… HELLO, THIRTIES!! 😀

p.s. I guess Dad got his wish (or was it an ultimatum?)… he always said I wasn't getting married until I was thirty! 😉