I dropped C off at the airport this past Sunday morning, not realizing the emotional response I was about to have. Work is such a beast these days, for the both of us. And while we've spent stretches of time apart from one another before, this trip bears shades of California… where a long-distance relationship was all we knew. Flights between San Diego and Dallas were commonplace, and if we saw each other once a month, we were lucky (buying stock in Skype was probably a good idea!).
This time, he's gone for a total of six weeks, and while he's most likely coming home for a weekend in March, it's still too long. I drove the hour back home crying my eyes out, when the day before, I just thought of this work trip as like every other. So, I spent the entire day in the kitchen… kneading crusts, whisking flours, stirring chocolate, whipping frostings and slow-cooking onions for Friday's FFwD, Cheese-Topped Onion Soup (which is incredibly amazing, by the way).
Baking has always soothed my soul, so this was just the kind of therapy I needed. The crust comes together like a dream (love the mixing-by-hand method!) and the filling? Simply sinful. Rich and silky with a hint of crunch at the end, thanks to the biscotti. I'm still a little down, but now I have a delightful Chocolate Truffle Tartlet to drown my sorrows in. 🙂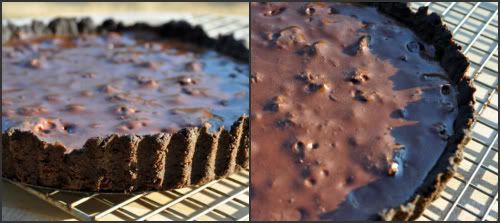 Steph of A Whisk and A Spoon, Spike of Spike Bakes, Jaime of Good Eats & Sweet Treats and Jessica of Cookbook Habit are our four fabulous hostesses for the week! Check their blogs for the recipe and to see how the other Doristas fared, click over to the 'Leave-Your-Link' post!
Up next? Rugelach! In two weeks' time, look for the recipe here! I'm hosting, along with Margaret of The Urban Hiker! 🙂
#2 – Chocolate Truffle Tartlets (pgs. 382-383)
Source: Baking With Julia by Dorie Greenspan

p.s. Thank you so much for all the votes and comments that we've received so far in Jessica D'Onofrio's Engagement Session Competition! So far, C and I are ahead… but not by much! You can vote EVERY DAY until February 29th, so click on the 'Competition' link above and please continue to vote!! And for more support, follow our Pinterest board here: Competition – Jessica & Chris!! 🙂