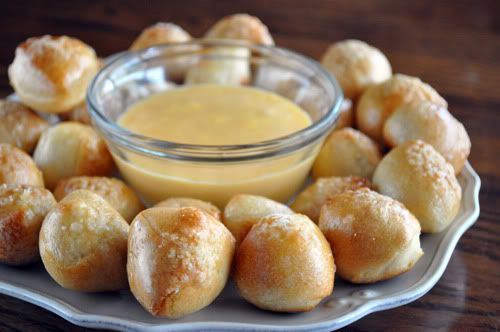 I'd been eyeing these from the moment my sweet friend Jess posted them on her blog. And what a coincidence that it just happened to be one of the last things on my '30 Before 30′ list. Granted, it's not a 'true' pretzel, but it's even better… you can eat lots of little bites and feel okay about it! They're super-simple to make and super-tasty, as well. Great for parties and after-school snacks… heck, I might even make a batch for next week's road trip!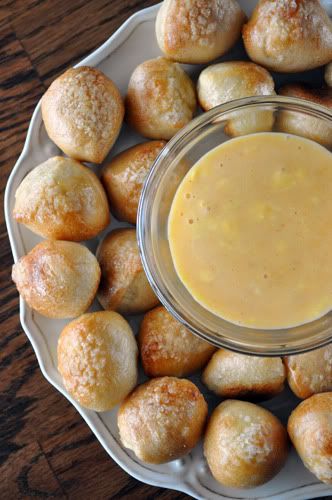 Pretzel Bites with Spicy Cheddar Cheese Dip
Ingredients
For the Pretzel Bites:

4 tsp active dry yeast
6-1/2 tsp Splenda for Baking, divided
1-1/4 c warm water (110 degrees F/45 degrees C)
5 c all-purpose flour
1/4 c light brown sugar
1-1/2 tsp Kosher salt + more for topping
4 tbsp unsalted butter, divided & melted
4 c water

For the Cheese Dip:

1 tbsp unsalted butter
1 tbsp all-purpose flour
1 c skim milk
1-1/2 to 2 c sharp cheddar cheese, grated
1 to 2 tsp Tony Chachere's Original Creole Seasoning, to taste
Instructions
For the Pretzel Bites:
In a measuring cup dissolve the yeast and 1/2 teaspoon Splenda for Baking in warm water. Set aside (the mixture should become foamy; if it doesn't, your yeast may be bad or your water too hot).
In the bowl of a standing mixture fitted with a dough hook, combine the flour, 6 teaspoons of Splenda for Baking, brown sugar and 1-1/2 teaspoons of Kosher salt on low speed. Turn off the mixer and pour the water/yeast mixture and 2 tablespoons of melted butter into the bowl. Turn the mixer on and knead for 6-8 minutes until the dough is smooth. If the dough is too dry you can add extra water, a tablespoon at a time.
Lightly oil a large bowl. Remove the dough from the mixer and shape into a ball. Place the dough ball in the bowl, cover with a clean towel, and allow to rise for one hour (or until it's doubled in size).
Towards the end of rising, preheat oven to 450 degrees and prepare baking sheets with parchment paper and cooking spray. After the dough has risen, punch down the dough and then knead with hands for one minute. Turn out onto a lightly floured surface and divide dough into 12 even portions. For pretzel bites, roll each portion into a snake then cut the snake into bite size pieces, about 1-1/2 inches in width.
In a large saucepan, bring the 4 cups of water to a boil. Place 8-10 pieces into the boiling water, tossing gently for about 45 seconds. Remove with a slotted spoon, and place bites on paper towels to drain slightly.
Move bites to greased baking sheets, and bake for about 15 minutes or until done and golden brown. Brush each pretzel bite with melted butter then sprinkle with Kosher salt. Serve warm or at room temperature.
For the Cheese Dip:
Melt the butter in a medium saucepan over medium heat. Add the flour and stir until blended, and butter has turned a light, golden brown. Slowly whisk in the milk and cook until slightly thickened. Remove from heat and stir in the cheddar cheese until smooth and all of the cheese has melted. Season with Tony's and serve.
Pretzel Bites adapted from: Sunny Side Up in San Diego
http://mybakingheart.com/2012/02/17/30-before-30-pretzel-bites-with-spicy-cheddar-cheese-dip/
Another goal bites the dust! 😉