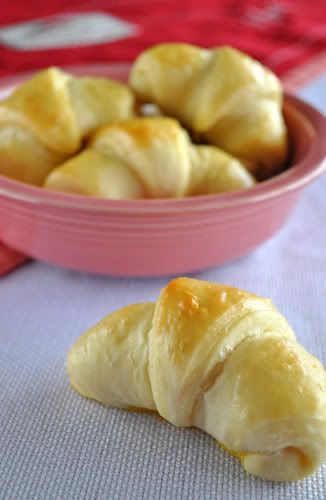 While racing to complete my '30' things, I came across this easy recipe for croissants. Racing, because there are only seven days until the dreaded 3-0. Yuck.
I read through the ingredients and instructions, then thought, "Score! I can complete my goal and have some tasty carbs to go along with dinner one night!" Unfortunately, croissants this recipe did not make. The result was more like crescent rolls… thick, chewy, doughy… the complete opposite of the quintessential light and flaky French pastry. I was a bit disappointed, however, I know it's always better to look on the bright side… I might have stumbled upon the copycat Pillsbury recipe!
Quick & Easy Croissants
Adapted from: About.com
Yields: 24 croissants
1/2 c water
1/3 c fat-free evaporated milk
3 tbsp unsalted butter, at room temperature
1 lg egg, at room temperature
1-1/2 tsp Kosher salt
1-1/2 tbsp Splenda for Baking
3 c bread flour
2-1/4 tsp active dry yeast
Combine yeast, 1 cup of flour and the other dry ingredients. Combine water and milk; heat to 120-130 degrees F.
Combine dry mixture, liquid ingredients and butter in the bowl of your stand mixer. With the paddle attachment, beat for about 4 minutes on medium speed. Add the egg and beat for 1 minute more. Switch to the dough hook attachment and gradually add the remaining flour, beating for another 5 to 7 minutes until smooth and elastic.
Place dough in a lightly-oiled bowl and turn to grease the top. Cover and refrigerate for 2 hours. Place dough on a floured surface and knead about 6 times to release the air bubbles. Divide into 3 parts and roll each piece into a 14-inch circle. With a bench scraper, or sharp knife, cut each circle into 8 pie-shaped wedges, until you have 24 wedges. Staring with the wide edge, roll each wedge toward the point. Place croissants on parchment paper-lined baking sheets, point side down, and curve into a crescent shape. Cover and let rise until an indentation remains in the croissant after touching.
Preheat oven to 350 degrees F. Combine the egg and 1 tablespoon of water and beat lightly. Brush croissants with the egg mixture, then place baking sheets in the oven to bake for 15 to 18 minutes, or until golden brown. Remove from baking sheets and cool on a wire rack.