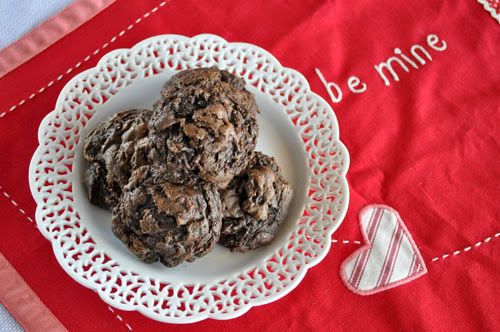 Happy Valentine's Day, my lovely readers! If you've followed the blog for any length of time, you know I've got a crazy-obsession with chocolate. And obviously, this recipe is no exception!
I'm also a big fan of the 'chocolate wasted' scene in the movie Grown Ups. Ever since that adorable little girl uttered those words, I've wanted to make these cookies. They're fudgy, gooey, brownie-like and totally melt in your mouth. Prepare to get wasted…
'Chocolate Wasted' Cookies
Ingredients
6 oz semi-sweet chocolate chips
12 oz dark chocolate chips, divided
8 tbsp unsalted butter, divided & at room temperature
1-1/2 c all-purpose flour
1/3 c dark cocoa powder
1-1/2 tsp baking powder
1/2 tsp Kosher salt
3/4 c light brown sugar, packed
1/4 c + 2 tbsp Splenda for Baking
3 lg eggs
1-1/2 tsp pure vanilla extract
Instructions
In a double-boiler or the microwave, melt the semi-sweet and 1/2 of the dark chocolate chips, along with 1/2 of the butter. Cool briefly. Sift together flour, cocoa powder, baking powder and salt; set aside.
Beat the remaining butter along with the brown sugar and Splenda for Baking, until the consistency of wet sand forms. Add the eggs one at a time, then beat in the vanilla. Mix in the chocolate/butter mixture, beating only until combined. Stir in the dry ingredients, just until combined. Chill for 1 hour.
Preheat oven to 350 degrees F. Using 2 spoons or a cookie scoop, drop golf ball-size balls of dough (about 4 teaspoons worth) onto parchment paper-lined baking sheets, spacing them 2-1/2″ apart. Bake one sheet at a time for 9 to 10 minutes. Do not over bake! Cool cookies on the pan for 2 to 3 minutes before moving to cooling racks.
Notes
http://mybakingheart.com/2012/02/14/chocolate-wasted-cookies/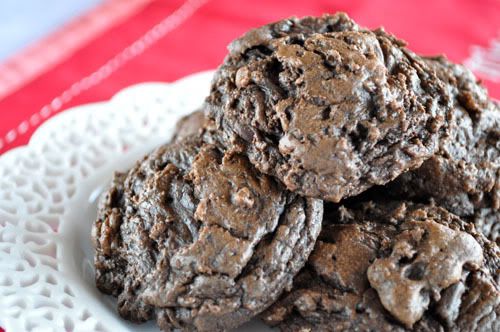 Have a sweet day!