I was all excited to show off a beautiful, fluffy loaf of white bread… I mean, it's the beginning of 'Baking With Julia', after all. But, when you accidentally kill the yeast (and realize your mistake way too late), this is the sad result.
It's been over a month since we've visited with Dorie on a Tuesday, so I was starting to get a little lonely. And while I'm glad that we're back together baking on an official level, I'm a bit disappointed with how these turned out. Forgiving the fact that the dough almost killed my precious stand mixer, the loaves did smell amazing while they were baking (and not rising). Don't worry, though, I will be trying this one again. Yeast be damned! 🙂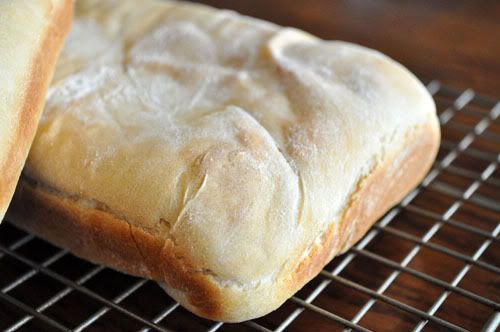 Sweet Laurie of Slush and lovely Jules of Someone's in the Kitchen are our hostesses for the week. Check out their blogs for the recipe and to see a round-up of BWJ participants, click over to our first 'Leave-Your-Link' post!
#1 – White Loaves (pgs. 81-82)
Source: Baking With Julia by Dorie Greenspan