It's February 5th once again and you know what that means… it's time for all Nutella lovers to unite! This special day is dedicated to celebrating, getting creative with and eating this famously wonderful chocolate-hazelnut spread.
It's World Nutella Day and Sara from Ms Adventures in Italy & Michelle from Bleeding Espresso are at it once again! And yes, I guess it's technically Super Bowl Sunday, as well. 🙂

We're headed out to a friend's Super Bowl party this evening, along with these in the backseat. As soon as we were invited and I put the two dates together in my head, I knew these would be perfect!
I made the cupcakes yesterday and whipped up the frosting really quick this morning… it's some of the easiest (and tastiest!) buttercream I've ever made! The cupcakes are fabulous on their own, as well. The Nutella Swirl acts as a self-frosting! Now, get to celebrating this awesome day!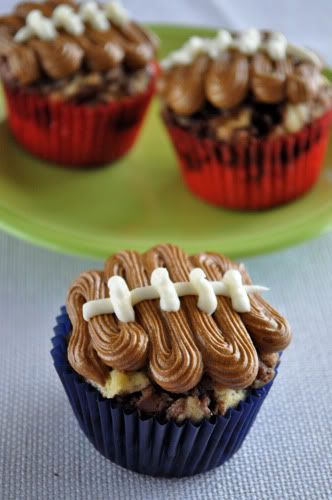 Nutella-Swirl Football Cupcakes with Nutella Buttercream
Ingredients
For the cupcakes:

10 tbsp unsalted butter, at room temperature
1/4 c + 2 tbsp Splenda for Baking
3 lg eggs
1/2 tsp pure vanilla extract
1-3/4 c all-purpose flour
1/4 tsp salt
2 tsp baking powder
12 tsp Nutella

For the buttercream:

8 tbsp unsalted butter, at room temperature
4 c Confectioners' sugar (or more, to taste)
1/4 c skim milk
1/2 tsp pure vanilla extract
1/4 c Nutella, softened
Instructions
Preheat oven to 325 degrees F. Line a 12-cup muffin tin with cupcake liners and set aside.
Cream together the butter and sugar until light, about 2 minutes. Add in eggs one at a time, until fully incorporated. The batter may not look smooth, but this is fine. Add vanilla, then stir in flour, salt, and baking powder until batter is smooth and all flour is incorporated. Fill each muffin liner with batter until all are 3/4 full. Top each cup with about 1 teaspoon of Nutella. Swirl Nutella in with a toothpick, folding a little batter up and over the Nutella, as well. Bake for 20 minutes. Remove to wire rack and allow to cool completely before frosting.
Begin putting the buttercream together using your stand mixer with the flat beater attachment. Cream the butter until light and fluffy. Add 3 cups of the Confectioners' sugar, then milk and vanilla and beat until the mixture is smooth, about 3-4 minutes. Add the remaining Confectioners' sugar, beating about 1-2 minutes. If you want a thicker consistency, continue to add a bit more sugar in small increments. In a microwave safe bowl, soften the Nutella until it has a spreadable consistency, about 15-20 seconds. Add the softened Nutella to the frosting and fold until well blended.
Adapted from: I Heart Cuppycakes
http://mybakingheart.com/2012/02/05/happy-world-nutella-day-12/
~~~
Missed my previous contributions?
World Nutella Day 2011: Nutella PB Cookies
World Nutella Day 2010: Chocolate Nutella Fortune Cookies
World Nutella Day 2009: Nutella Palmiers