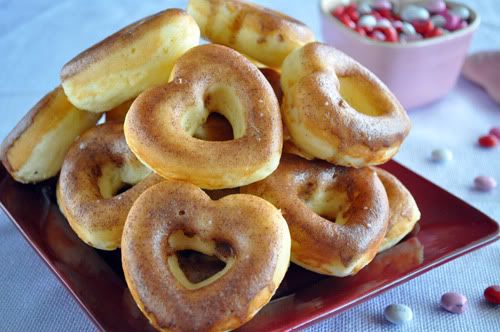 As my '30 Before 30′ list slowly dwindles down, I'm fondly looking back on the things that I challenged myself with this past year. And for a first-time try, I do believe that these doughnuts were one of my favorite things to bake.
First off, the shape is just adorable… I love hearts. And the taste? It's amazing. It already makes me ready for Fall again. The batter is also super-simple to put together. You can have hot & fresh doughnuts within a 30 minute window. Perfect for when you're craving a late-night sweet… not that I ever do or anything. 🙂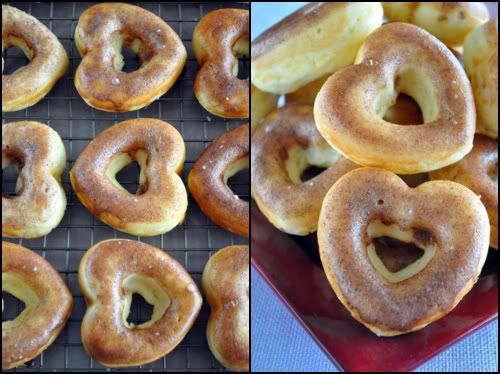 Spice Cake Doughnuts with Cinnamon Glaze
Yields: 18 doughnuts
2 c cake flour, sifted
1/4 c + 2 tbsp Splenda for Baking
2 tsp baking powder
1/4 tsp ground nutmeg
1 tsp Kosher salt
3/4 c low-fat buttermilk
2 lg eggs, lightly beaten
2 tbsp unsalted butter, melted
For the glaze:
1 c Confectioners' sugar
3-4 tbsp skim milk
1 tsp ground cinnamon
Preheat oven to 425 degrees F. Spray doughnut pan with non-stick cooking spray and set aside. In a large mixing bowl, sift together cake flour, Splenda for Baking, baking powder, nutmeg and salt. Add buttermilk, eggs and butter and beat until just combined. Fill each doughnut cup approximately 1/2 full (using 2 tablespoons of batter).
Bake 4 to 5 minutes, or until the tops of the doughnuts spring back when touched. Let cool in the pan for 3 minutes before removing to a wire rack. Repeat baking process with the remaining batter.
While the doughnuts are cooling, make the Cinnamon Glaze by stirring together the Confectioners' sugar, milk and cinnamon until sugar is completely dissolved. Glaze doughnuts while still warm, then eat immediately for a super-fresh taste!