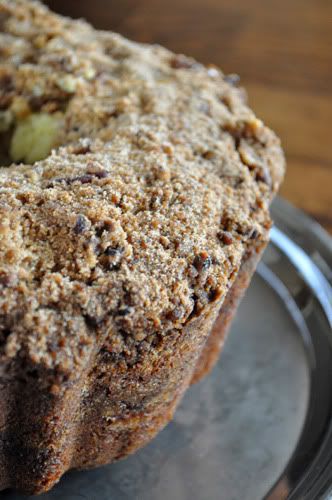 I couldn't think of a better way to celebrate this blogiversary than by putting together this melt-in-your-mouth coffee/pound cake. It was just what I needed: to spend a couple of calm and soothing hours in the kitchen whisking, chopping and mixing to produce this gorgeous treat.
So this morning, I woke up a little earlier than normal to enjoy a slice of this, along with a steaming cup of coffee. I smiled and reflected on the last four years and the changes that have taken place since I hit the 'Publish' button so long ago. I've said it before and I'll say it again – the friends I've made, the chefs & bakers I've met and the challenges I've faced along the way have made me a better person. It's more than a hobby for me now… it's a passion. And with a wedding on the brain, I just fell in love with the description Southern Living gave this amazing cake: "Marry two Southern specialties, coffee cake and pound cake, to create one buttery, best-of-both-worlds treat." Pretty fitting, don't you think? 🙂
Coffee Cake-Pound Cake
Source: Southern Living, January 2012
Pecan Streusel:
1/2 c light brown sugar, firmly packed
1/2 c all-purpose flour
1 tsp ground cinnamon
1/4 c unsalted butter
3/4 c chopped pecans
Pound Cake Batter:
1 c finely chopped pecans
1 c unsalted butter, softened
2-1/2 c granulated sugar
6 lg eggs
3 c all-purpose flour
1/4 teaspoon baking soda
1 (8 oz) container sour cream
2 tsp pure vanilla extract
1/4 c light brown sugar, firmly packed
1-1/2 tsp ground cinnamon
Prepare Pecan Streusel by combining the first 3 ingredients in a bowl. Cut in butter with a pastry blender or fork until mixture resembles small peas. Stir in 3/4 cup pecans.
To prepare Pound Cake Batter, preheat oven to 350°. Bake 1 cup pecans in a single layer in a shallow pan 5 to 7 minutes or until lightly toasted and fragrant, stirring halfway through. Cool for 20 minutes and reduce oven temperature to 325°. Beat butter at medium speed with a heavy-duty electric stand mixer until creamy. Gradually add granulated sugar, beating until light and fluffy. Add eggs, 1 at a time, beating just until blended after each addition. Whisk together flour and baking soda, then add to butter mixture alternately with sour cream, beginning and ending with flour mixture. Beat at low speed just until blended after each addition. Stir in vanilla. Pour half of batter into a greased and floured 10-inch (12-cup) tube pan. Stir together toasted pecans, brown sugar and cinnamon, then sprinkle over batter. Spoon remaining batter over pecan mixture, then sprinkle with Pecan Streusel.
Bake at 325° for 1 hour and 20 minutes to 1 hour and 30 minutes or until a long wooden pick inserted in center comes out clean. Cool in pan on a wire rack 10 to 15 minutes, then remove from pan to wire rack, and cool completely for about 1 hour.