How about a Thursday special in the form of a two-fer? What's better than milk and cookies, you ask? Eggnog and cookies!
This is another Christmas-y post, but like Nikki commented before, I'm always sad when the season is over and we move on to low-fat recipes and the "Top 5 Moves to Sculpt Your Arms." 🙂 So, in the spirit of Christmas, I give you sugar cookies and homemade eggnog. The cookies are such fun to make – grab the little ones and have them weave strips together in preparation for cutting out shapes. Then, while the cookies are baking away in the oven, whip your eggnog up. Both are the perfect treat to enjoy together by a roaring fire. It's still hovering in the 30s and 40s around here, so you know we're using the fireplace like there's no tomorrow!
Lattice-Top Pie Crust-Sugar Cookies
Adapted from: Martha Stewart's Old-Fashioned Sugar Cookies
Yields: About 20 cookies
3 c all-purpose flour
1 tsp baking soda
1/4 tsp Kosher salt
1-3/4 c granulated sugar
1/4 light brown sugar, packed
8 tbsp unsalted butter, at room temperature
2 lg eggs
1 tbsp fresh lemon juice
Ground cinnamon, for sprinkling
In a medium bowl, sift together flour, baking soda and salt. Put sugars and butter in the bowl of an electric mixer fitted with the paddle attachment. Mix until pale and fluffy, about 1 minute. Mix in eggs one at a time, and then the lemon juice. Reduce speed to low and gradually mix in the flour mixture.
Gather the dough in a round disc and wrap in plastic wrap. Chill in the refrigerator for 45 minutes to an hour. When chilled, preheat oven to 350 degrees F and begin rolling out the dough to 3/4 of an inch thick. Using a sharp knife or a pastry wheel, cut the dough into strips, each 1-1/4 inches wide. Lay 5 strips next to each other vertically, evenly spaced. Fold back strips 2 and 4 and lay another strip directly across the center. Unfold the folded strips, then fold back strips 1, 3 and 5. Lay another perpendicular strip across. Unfold the folded strips, then fold up strips 1, 3 and 5 on the other side. Place another perpendicular strip across, then unfold strips 1, 3 and 5.
Using a round biscuit or cookie cutter, cut out shapes. Then transfer the cookies to a parchment paper-lined baking sheet with a metal spatula (being careful not to disturb the woven strips), spacing 3 inches apart. Sprinkle each cookie with a bit of cinnamon. Bake until golden, about 12 to 15 minutes. Transfer cookies to a wire rack. Let cool completely before serving. Cookies can be stored in airtight containers for up to 3 days.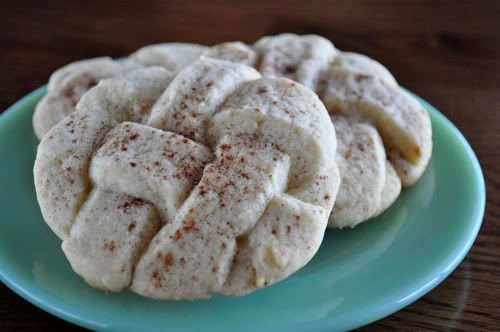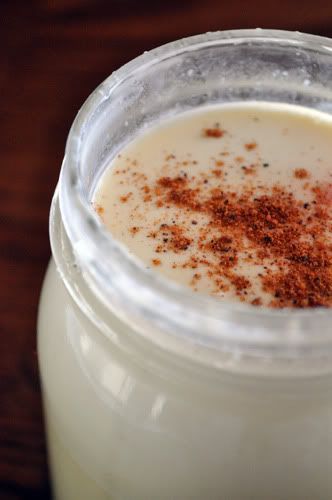 Homemade Eggnog
Adapted from: David Burnette of The Capital Hotel in Little Rock, AR (as seen in Southern Living, December 2011)
Yields: 9 cups
6 c non-fat milk
2 c heavy cream
1/8 tsp ground nutmeg
12 pasteurized egg yolks
1 c Splenda for Baking
Praline or bourbon liqueur (optional)
Freshly ground nutmeg
Cook milk, heavy cream, and 1/8 teaspoon ground nutmeg in a saucepan over medium heat, stirring occasionally, 5 to 7 minutes or until steaming (about 150°). Reduce heat to low.
Whisk together egg yolks and sugar in a large saucepan until smooth. Cook over low heat, whisking constantly, until mixture reaches at least 160° (about 25 minutes). Whisk milk mixture into egg mixture.
Cool for 30 minutes, then transfer to a pitcher. Cover and chill 3 to 24 hours. Pour desired amount of praline or bourbon liqueur into each glass, if desired. Top with eggnog, then sprinkle with freshly ground nutmeg.