Even though a new year has begun, I've got a few Christmas-y treats to share with you this week. Molasses cookies are a December staple, but this recipe is a year-round treat for me… especially since it comes from my great-grandmother.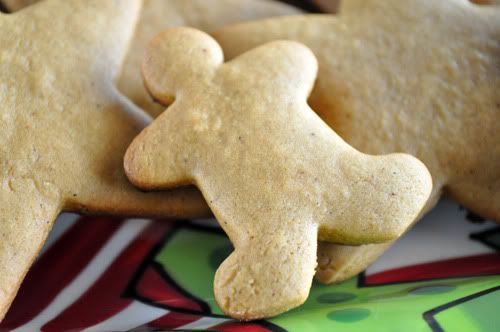 These spicy cookies are best eaten the day they're baked, but will be just as tasty the next day if stored properly in an air-tight container. I normally leave them as is, but they're a perfect vessel for powdered sugar icing, which is exactly the way my dad and aunts remember them. Who cares if it's January and I should be at the gym? 😉
Great-Grandmother's Molasses Cookies
Source: My great-grandmother & Mango's mother, Helen
1/2 c shortening
1/2 c granulated sugar
1/2 c molasses
1/2 tbsp white vinegar
1 lg egg, beaten
3 c all-purpose flour
1/2 tsp baking soda
1/2 tsp ground cinnamon
1/2 tsp ground ginger
1/4 tsp Kosher salt
In a heavy-bottomed pot, bring the shortening, sugar, molasses and vinegar to a boil, then set aside to cool. Once cool, add the beaten egg until completely mixed in. Then, add the dry ingredients to the wet ingredients and mix well. Chill for at least three hours to overnight.
Once chilled, preheat your oven to 375 degrees, then roll out the dough and cut desired shapes with cookie cutters. Bake on a greased cookie sheet for 8 to 10 minutes. Be careful, as the cookies will break when taken off the sheet if baked too long.