Fifty-two days from the finish line and I've hit another '30 Before 30′ goal. I figured it was time for a little alcohol. It is a new year, after all, and I've made quite a few dishes on my list, but there's an even bigger reason to celebrate. C and I are engaged!!
Imagine Christmas Day. Nestled inside a wooden picnic basket, there was to be a red velvet cake, with the words, "Will you marry me?" piped in sweet red icing on the top. A cloisonné cupcake box was to gingerly hold the emerald cut diamond ring. However, things didn't go according to plan. After a heartfelt conversation two days prior about friendship and family, things clicked perfectly into place and C got down on one knee in his childhood bedroom to propose to me (importantly, reciting my first and middle name beforehand). Lots of tight hugs, tiny kisses and many happy tears followed.
I've been on Cloud Nine for the past week and I can't stop staring at my left hand. I have the cupcake box, I have the ring, and now I have a fiancé (which sounds so odd to say!). With a Fall 2012 wedding, this year surely proves to be a busy one, doesn't it?! 😉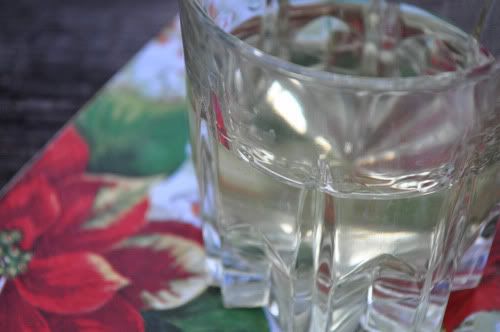 Homemade Limoncello
Source: epicurious
15 thick-skinned lemons
2 (750 ml) bottles 100-proof vodka
4 c granulated sugar
5 c water
Wash the lemons in hot water and scrub with a vegetable brush to remove any pesticides or wax; pat the lemons. Carefully zest the lemons with a zester or vegetable peeler so there is no white pith on the peel.
Step One:
In a large 1-gallon glass jar, add one bottle of vodka; add the lemon zest as it is zested. Cover the jar and let sit at room temperature for at least 10 days and up to 40 days in a cool dark place. The longer it rests, the better the taste will be. There is no need to stir – all you have to do is wait. As the limoncello sits, the vodka slowly takes on the flavor and rich yellow color of the lemon zest.
Step Two:
In a large saucepan, combine the sugar and water; cook until thickened, approximately 5 to 7 minutes. Let the syrup cool completely, then add to the limoncello mixture from Step One. Add the additional bottle of vodka and allow to rest for another 10 to 40 days.
Step Three:
After the rest period is complete, strain and bottle the limoncello. Store in the freezer until ready to serve.
Toasting our engagement with Homemade Limoncello!!