Happy Birthday to Daddy, aka the German 'Iron Stomach'!! Instead of driving to the Bavarian Grill for our annual celebration dinner, I decided to knock out a few of my '30 Before 30′ goals in one fell swoop! Everything but the organic bratwursts was homemade (with tons of love) and we're seriously looking forward to the next German dinner… consisting of Sauerbraten, Spatzel & Soft Pretzels! 🙂
Red Cabbage
Adapted from: AllRecipes.com
3/4 c water
1 sm head red cabbage, shredded
1/4 c brown sugar, packed
1/2 c white vinegar
1/2 c apple cider vinegar
1/2 tsp ground cinnamon
1/2 tsp ground allspice
1/2 tsp ground cloves
2 tbsp unsalted butter, divided
Place water in a large heavy-bottomed saucepan. Stir in cabbage, brown sugar, both vinegars, cinnamon, allspice, cloves and 1 tablespoon of butter. Bring to a boil. Reduce heat and cover, simmering for 45 minutes and stirring occasionally, until the cabbage is tender. Stir in remaining tablespoon of butter just before serving.
Potato Pancakes
Source: Momma G
Yields: 18 pancakes
6 med potatoes, peeled
Cold water
3 lg eggs
1/4 c all-purpose flour
1 tsp Kosher salt
1/8 tsp ground pepper
1 lg onion
Vegetable oil for frying
Sour Cream (optional)
Applesauce (optional)
As potatoes are peeled, drop them into a large bowl of water. Keep potatoes covered with water until grating. Beat eggs in a large bowl; then beat in flour, salt and pepper until smooth.
Fit food processor with shredding blade and pour 2 inches of cold water into the bowl. Cut potatoes and onion to fit the processor feed tube. Shred potatoes and onion into water in batches. Squeeze dry and beat into egg batter. Replenish water in bowl as needed to keep potatoes covered. Or shred potatoes and onion with a salad shredder, working fast to prevent potatoes from darkening.
Heat 1/2 inch of oil in a large heavy-bottomed skillet. Drop in batter by tablespoon-fuls. Brown over moderate heat on one side, turn and brown the other. Serve at once with sour cream and/or applesauce, if desired. To serve later, drain on paper towels, cover, and hold at room temperature for up to 4 hours. Just before serving, arrange in a single layer on a baking sheet and bake in the oven preheated to 350 degrees F for 10 to 15 minutes.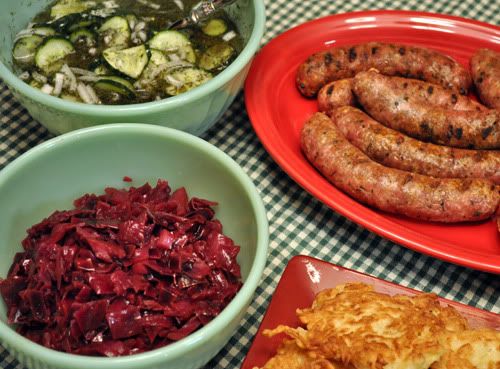 Cucumber Slices in Dill
Source: AllRecipes.com
4 lg cucumbers, sliced
1 onion, thinly sliced
1 tbsp dried dill weed
1 c granulated sugar
1/2 c white vinegar
1/2 c water
1 tsp Kosher salt
In a large serving bowl, combine cucumbers, onions and dill; set aside. In a medium bowl, combine sugar, vinegar, water and salt. Whisk until the sugar dissolves. Pour the liquid mixture over the cucumbers, then cover tightly and refrigerate at least two hours before serving. Marinate even longer for a tangier taste.
Black Forest Cheesecake
Adapted from: Taste of Home
1-1/4 c chocolate graham cracker crumbs
1/4 c unsalted butter, melted
2 envelopes unflavored gelatin
1 c cold water
1 (21 oz) can cherry pie filling
1/2 tsp almond extract
2 (8 oz) pkg cream cheese, softened
1/3 c granulated sugar
2 oz dark chocolate, melted & cooled
1 tsp brandy extract or pure vanilla extract
1 c fat-free whipped topping, plus extra for garnish (if desired)
Maraschino cherries (optional)
Melted chocolate (optional)
Combine graham cracker crumbs and butter. Press into the bottom & up the sides of a 9″ Springform pan. Chill for 15 minutes. In a small saucepan, sprinkle the gelatin over the cold water and let stand for 1 minute. Heat over LOW, stirring until the gelatin is completely dissolved. Combine 1/3 cup of gelatin mixture with pie filling and almond extract. Pour into crust and chill until set.
In a large bowl, beat cream cheese and sugar until smooth. Beat in melted chocolate, brandy extract and remaining gelatin mixture. Slowly fold in whipped topping and, then spread over cherry layer. Chill for at least 3 hours. Remove from pan and garnish with extra whipped topping, maraschino cherries or melted chocolate, if desired.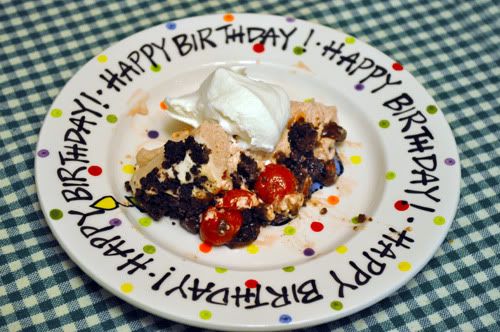 Keep an eye out on Monday for another '30 Before 30′ achievement and a HUGE announcement!! 😀