The Texas Beef Council's 'Holiday Celebration' campaign is coming to a close. Besides the treasure trove of new beef recipes I have to try, I've had an amazing time these past four weeks working with Erin & the team at TBC and my nine fabulous fellow Beef Lovin' Bloggers! 🙂
Even though the holidays are a busy time of year, one of the best things about them is friends and family gathering together! Whether it's a wrapping party with a few neighbors or family staying for the week, this warm & comforting chili makes the perfect choice for your holiday gatherings – and the leftovers get better with each passing day!
I invited several friends and neighbors over this past Wednesday night for a Poinsettia Bowl watching party and a bowl of Cowboy Chili… it's all about the 'bowl', right? 🙂 This hearty chili was amazing topped over Fritos with all the fixings AND the Horned Frogs defeated the Louisiana Tech Bulldogs 31-24! What a Christmas present for these seniors who finish 47-5 in four years! Here's to TCU and the Texas Beef Council… Riff Ram!!
Cowboy Beef & Black Bean Chili
Ingredients
For the Chili:

2 lbs lean ground beef (95% lean)
1 tbsp vegetable oil
1-1/2 c red onion, chopped
2 tbsp fresh garlic, minced
1/4 c chili powder
1 tbsp ground cumin
1 tsp dried oregano leaves, crushed
1 tsp dried thyme leaves, crushed
1/8 tsp ground red pepper
1 (28 oz) can diced tomatoes, undrained
2 (14-1/2 oz) cans RO*TEL diced tomatoes & green chiles, undrained
1 (14 to 14-1/2 oz) can ready-to-serve beef broth
12 oz light beer
1/3 c tomato paste
1 tbsp honey
2 (15 oz) cans black beans, rinsed & drained

Chili Bar Toppings:

Fritos Corn Chips
Chopped red onions
Fresh cilantro
Sour Cream
Shredded Cheese
Instructions
Brown ground beef in stockpot over medium heat 8 to 10 minutes or until beef is no longer pink, breaking up into 3/4-inch crumbles. Remove from stockpot with slotted spoon. Set aside and pour off drippings. Heat oil in same stockpot over medium heat until hot. Add onions and garlic; cook and stir 3 to 5 minutes or until onions are tender.
Return beef crumbles to stockpot. Add chili powder, cumin, oregano, thyme and red pepper; cook and stir for 2 to 3 minutes. Stir in diced tomatoes, RO*TEL, broth, beer, tomato paste and honey; bring to a boil. Reduce heat; cover and simmer 45 minutes. Uncover stockpot; continue simmering 30 minutes or until thickened to desired consistency, stirring occasionally. Stir in beans; cook 5 to 10 minutes or until beans are heated through. Season with salt and black pepper, as desired. Garnish with toppings from your Chili Bar, if desired.
Adapted from: Texas Beef Council
http://mybakingheart.com/2011/12/23/celebrate-the-holidays-with-beef-week-4-companys-coming-holiday-meals-cowboy-beef-black-bean-chili/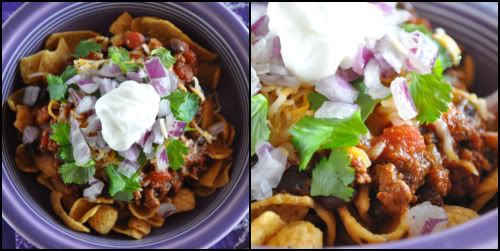 Disclosure: I am participating in a four week campaign with the Texas Beef Council and am being compensated. All photography & opinions are my own. Recipes are courtesy of the Texas Beef Council.