Next week, 'Tuesdays With Dorie' comes to a close after almost four years. It saddens me just to think about it, so let's save that for next week and talk about happier things, like this amazing Fresh Ginger & Chocolate Gingerbread! C's not big on sweets (save for a brownie or two), but he tore into a big piece of this on Sunday morning like nobody's business.
It took a bit longer to bake than Dorie suggests (almost 1/2 an hour more in my 30-year-old oven), but the taste was lovely. Spicy, sweet and smooth… Christmastime is definitely here! 🙂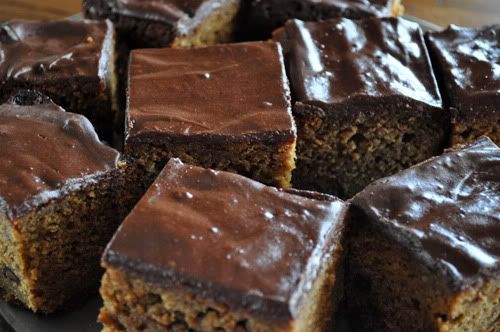 This recipe was originally chosen on January 27, 2009 by Heather of Sherry Trifle. You can find the recipe listed at the link or you can view it on Serious Eats. Lots of different treats were chosen this week, so check out the 'Leave-Your-Link' post for some sweet variety!
Fresh Ginger & Chocolate Gingerbread (pg. 212)
Source: Baking – From My Home to Yours by Dorie Greenspan