Hot Apple Cider is classically Christmas. It's spicy but smooth, takes just a few minutes of preparation and the result? An incredibly smelling house and a sweet sipper that your arriving guests will really appreciate warming up with! It's not too shabby alongside a few of those Ginger Cookies, either.
Dad and two of his Rotary friends volunteered to work our local Holiday Lights display last week, so to keep warm, he filled a tall thermos full and surprised them with glasses of cider. He also added a bit of rum to the mix… guess you could say that the three of them were definitely in the Holiday Spirit! 😀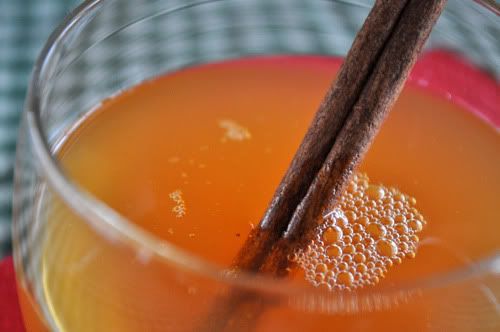 Ingredients
1 gallon 100% apple juice
1/2 gallon pineapple juice
1 cinnamon stick
5 clove pieces
1/2 tsp nutmeg
1 orange, sliced
Juice of 1 lemon
1/4 c Splenda for Baking
Instructions
Stove Method:
Combine all ingredients in a big pot on the stove and simmer for 2-3 hours.
Crock Pot Method:
Combine all ingredients in a large crock pot and simmer for 2 hours on High. Serve immediately or turn to Low ('Keep Warm') and leave on all day.
Adapted from: Helen Robinson of Canyon, TX
http://mybakingheart.com/2011/12/19/30-before-30-hot-apple-cider/