I haven't always been fond of a pink piece of beef. You know the type of girl I'm talking about. The one who's cringing in the corner after spotting a bleeding steak that's brought to the table. And being Comanche, it's almost mandatory that I eat beef at every meal; so you can imagine how much flak I've received over the years about this.
However, within the last three weeks, the Texas Beef Council has worked it's magic at changing my mind. Take Wednesday night's dinner for example, featuring this yummy Parmesan-Crusted Tenderloin. It was all much easier to prepare than I was expecting. Home by 6, dinner on the table by 7. Perfection! And the Savory Mushroom Sauce that's served on the side?? I could eat it by the bowlful. Whether serving an intimate family dinner or you're expecting a large crowd, place a beef roast at the center of the table and everyone will be ready to celebrate the holidays!
Parmesan-Crusted Tenderloin with Savory Mushroom Sauce
Source: Texas Beef Council
1 center-cut beef tenderloin roast (2 to 3 lbs)
1/4 c Parmesan cheese, freshly grated
3 tbsp fresh thyme, chopped, divided
1/2 tsp fresh-ground black pepper
1 tbsp extra-virgin olive oil
8 oz cremini or button mushrooms, sliced
2 c fresh tomatoes, finely diced
1 c ready-to-serve beef broth
1/2 c dry red wine
Kosher salt
Black pepper
Heat oven to 425 degrees F. Combine cheese, 2 tablespoons of thyme and a 1/2 teaspoon of pepper; roll roast in cheese mixture to cover all surfaces. Place roast on rack in a shallow roasting pan, then insert an ovenproof meat thermometer so tip is centered in the thickest part of the beef. Do not add water or cover. Roast in oven for 35 to 40 minutes for medium rare or 45 to 50 minutes for medium doneness.
Meanwhile heat oil in large nonstick skillet over medium heat until hot. Add mushrooms; cook and stir 5 to 7 minutes or until mushrooms are tender and browned. Add tomatoes, broth, wine and remaining 1 tablespoon of thyme, then bring to a boil. Reduce heat and cook for an additional 25 to 30 minutes or until sauce is reduced to 2 cups and is a rich, brown color, stirring occasionally. Season with salt and pepper, as desired.
Remove roast when meat thermometer registers 135 degrees F for medium rare; 150 degrees F for medium. Transfer roast to carving board; tent loosely with aluminum foil. Let stand 15 to 20 minutes (temperature will continue to rise about 10 degrees F to reach 145 degrees F for medium rare and 160 degrees F for medium). Carve roast into slices and season with salt, as desired. Serve with savory mushroom sauce.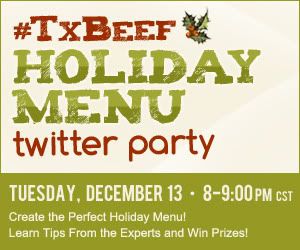 If you missed this week's Holiday Twitter Party, click on the image above or search the hashtag #TXBeef on Twitter for a link to our convo! Lots of great tips on roasting, grilling & creating the perfect holiday menu! 🙂

Disclosure: I am participating in a four week campaign with the Texas Beef Council and am being compensated. All photography & opinions are my own. Recipes are courtesy of the Texas Beef Council.