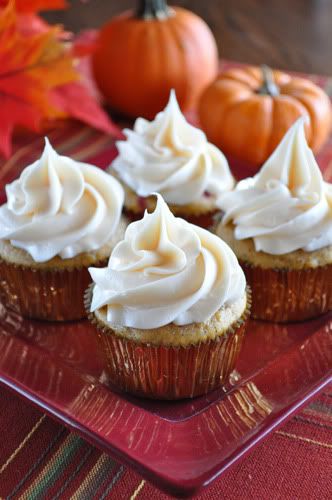 The holidays are all about togetherness. Family, good friends, bright colors, sweet smells and tasty treats… all things that come to mind when I look at these cupcakes. The ingredients below blend together so perfectly to create a tart & rich cake with just a bite of spice at the end. And fortunately, we had overnight guests that devoured these for dessert the night I made them, leaving none to tempt me the next morning.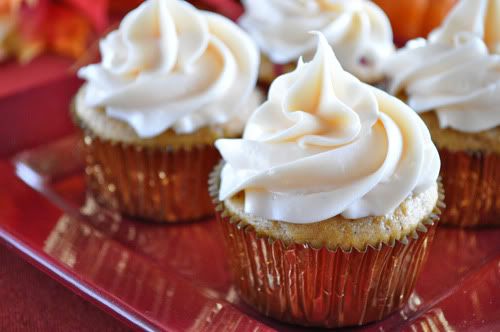 Cranberry-Pumpkin Spice Cupcakes with Orange Zest-Cream Cheese Frosting
Ingredients
For the Cupcakes:

1/2 c unsalted butter, at room temperature
1 c granulated sugar
2 lg eggs
1/2 tsp pure vanilla extract
2 c all-purpose flour
1-1/2 tsp baking powder
1/2 tsp baking soda
1 tsp ground cinnamon
1/2 tsp pumpkin pie spice
1/8 tsp ground cloves
1 c low-fat buttermilk
1/2 c pureed pumpkin
1 c fresh cranberries, heaping

For the Frosting:

2 (8 oz) pkgs cream cheese, at room temperature
8 tbsp unsalted butter, at room temperature
1 (16 oz) box Confectioners' sugar
2 tbsp freshly-grated orange zest
Instructions
For the Cupcakes:
Preheat oven to 350 degrees F, then line two muffin tins with 18 cupcake wrappers. In a medium-sized bowl, whisk together the flour, baking powder, baking soda, cinnamon, pumpkin pie spice and cloves; set aside. Measure buttermilk in a large measuring cup, then add pumpkin and stir to combine; set this aside, as well.
In a bowl of a standing mixer (fitted with the paddle attachment) or with a hand mixer, beat butter and sugar until smooth. Add eggs and vanilla extract and mix thoroughly. Scrape down the sides of the bowl, then add in the dry ingredients alternately with the buttermilk, ending with the dry ingredients. Carefully fold in the cranberries.
Fill muffin tins about 2/3 full, then bake cupcakes for 20 minutes or until a toothpick comes out clean.
For the Frosting:
Beat cream cheese and butter together until smooth. Add powdered sugar and mix well. Add orange zest, then beat until smooth. Pipe frosting onto completely-cooled cupcakes.
Source: A 'My Baking Heart' original
http://mybakingheart.com/2011/12/14/cranberry-pumpkin-spice-cupcakes-with-orange-zest-cream-cheese-frosting/
If you're feeling generous, please throw a vote my way and help me win my local newspaper's 2011 Holiday Recipe Contest! Registration is required (and I know it's a pain), but I'd greatly appreciate it!! I'm listed on the second page, top of the second column – just click on the link above, head to Page 2, leave a vote, click the orange 'Save Vote' button at the bottom and you're done! Voting ends December 22nd and you can vote once a day per e-mail address registered. Thanks a million!!