Simple, tasty, no fuss… an instant classic around here! This easy dessert is perfect for brunches, baby & bridal showers, pot-lucks, work buffets and even Christmas dinners. Dorie suggests four servings from this tart, but it would be just as lovely cut into bite-size pieces.
I was unable to find fresh plums in my (red)neck of the woods, so I went with an apple pie-like type of filling. And it was amazing! I'm still trying to decide on a dessert to bring to a Christmas party this weekend, but I think I may have just found it…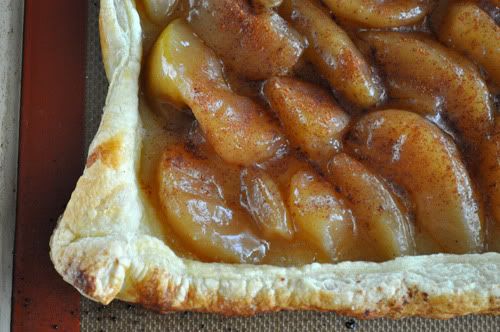 Julie of Someone's in the Kitchen is this round's hostess. Hop on over to her blog for the original recipe and to see those who baked along this week, check the 'Leave-Your-Link' post. There's also 'Unbelievably Good' Chocolate-Blueberry Ice Cream in the mix! Next week? I'm rewinding things with Fresh Ginger & Chocolate Gingerbread!
Puffed Apple Pie Tart (pg. 378-379)
Adapted from: Baking – From My Home to Yours by Dorie Greenspan