I can remember Christmas breaks from school, where all thirteen relatives on my Dad's side of the family were visiting. Breakfasts were bustling, busy with us all stuffing our faces, Mango at the stove, everyone chatting away…
Now? I'm the one at the stove. And I love those chilly mornings when I wake up knowing that no one else in the house has stirred. I can put together a warm and cozy brunch all while enjoying the 'calm before the storm'. And with this amazing Southwest Breakfast Casserole from the Texas Beef Council, it's super-easy. This protein-packed dish is prepared the night before and popped into the oven the next morning for a short 45 minutes. It's fabulous served along sides like fresh fruit, croissants or pastries and makes for great leftovers!
Another great tip? Line your casserole dish with foil, spray with non-stick cooking spray and assemble up to the point of cooking. Freeze until firm, then remove from the freezer and simply place the frozen ingredients from the pan into a freezer-proof bag and label. Freeze until ready to use by thawing in the refrigerator, allowing you to use your pan without storing in the freezer! Genius! 😉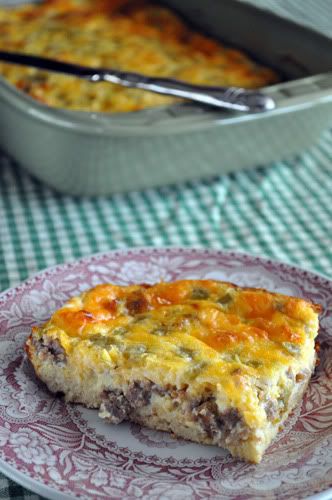 Southwest Breakfast Casserole
Source: Texas Beef Council
6 slices wheat bread, crusts removed
2 tbsp unsalted butter, at room temperature
1 lb beef sausage
4 c Colby/Monterey Jack cheese
2 (4 oz) cans chopped green chiles
6 lg eggs
1 tsp Kosher salt
1 tsp dry mustard
2 c half-and-half
Bottled picante sauce
Light sour cream (optional)
Fresh cilantro, chopped (optional)
Lightly butter both side of bread slices and place in 9″ x 13″ baking dish; set aside. In a nonstick skillet, over medium-high heat, brown beef sausage; drain well and pat with paper towels. Sprinkle sausage over bread slices, then sprinkle cheese over sausage. Follow with a layer of chopped green chiles.
In a medium bowl, lightly beat the eggs. Add Kosher salt, dry mustard and half-and-half. Mix thoroughly, then pour over casserole. Cover with foil and refrigerate overnight.
When ready, preheat oven to 350 degrees F and bake casserole for 45 minutes, or until bubbly and lightly browned. Allow to stand 15 minutes to set, then cut into squares and serve with picante sauce, sour cream & fresh cilantro (if desired) on the side.
Mark your calendars for Tuesday evening, December 13 from 8p to 9p CST for the "Beef Tweet Exchange"! We'll feature information to help you create the perfect holiday menu, such as flavorful appetizers for a party, a roast for a family dinner or brunch after opening presents! Giveaways and a grand prize included!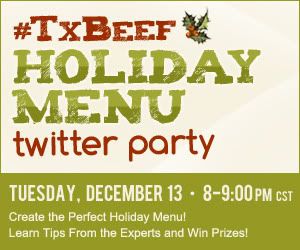 Make sure to follow hostess @TexasHolly for all the details. We will be joined by experts from the Texas Beef Council – Chef Tiffany, Jason the Butcher and Nutrition Expert Lerin – who will be available to answer all your questions and award over 20 prizes! Don't forget to use that #TxBeef hashtag, too!
My fab fellow Texas Beef-loving Bloggers' posts are popping up, too. Also on this week's breakfast menu besides the Southwest Casserole? Strata and beef sticky rolls! Follow the link to see a list of their twitter accounts, where they'll announce their posts as soon as they're live!

Disclosure: I am participating in a four week campaign with the Texas Beef Council and am being compensated. All photography & opinions are my own. Recipes are courtesy of the Texas Beef Council.