Happy Monday, my sweet readers! I hope you all had a wonderful Thanksgiving holiday. I spent the past four days giving thanks alongside two big, loving families and I couldn't be more happy about the blessings that have been bestowed upon me.
Among the many pies, tarts, cakes and cookies we devoured on Thursday, this pretty, little (good-for-you!) bundt made the top of the list. It came together perfectly and traveled the two hours to Fort Worth like a pro. Chocolate, pumpkin, spices and a low point value… how could you not be thankful?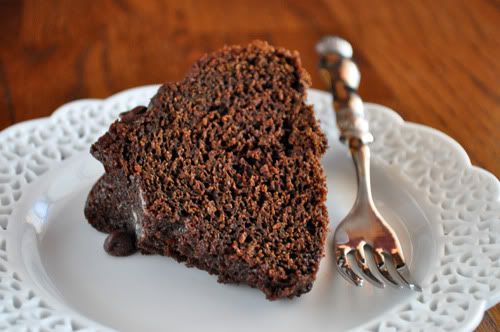 Glazed Chocolate-Pumpkin Bundt Cake
Ingredients
For the Cake:

1 c all-purpose flour
3/4 c whole-wheat pastry flour
1 c granulated sugar
3/4 c unsweetened cocoa powder
1-1/2 tsp baking powder
1-1/2 tsp baking soda
1 tsp pumpkin pie spice
1/4 tsp Kosher salt
1 c nonfat buttermilk
1 (15-ounce) can unsweetened pumpkin puree
3/4 c dark brown sugar, packed
1 lg egg, at room temperature
1 lg egg white, at room temperature
1/4 c canola oil
1/4 c light corn syrup
1 tablespoon pure vanilla extract

For the Glaze & Garnish:

1/2 c Confectioners' sugar, packed
1 tbsp nonfat buttermilk
2 tbsp dark chocolate chips
Instructions
Preheat oven to 350 degrees F. Coat a 12-cup Bundt pan with cooking spray and set aside. Whisk all-purpose flour, whole-wheat flour, granulated sugar, cocoa, baking powder, baking soda, pumpkin pie spice and salt in a medium bowl.
Blend 1 cup buttermilk, pumpkin puree and brown sugar in a large bowl with an electric mixer on low speed. Beat in whole egg and egg white. Stir in oil, corn syrup and vanilla. Gradually add the dry ingredients, stirring until just combined. Transfer the batter to the prepared pan.
Bake the cake until a wooden skewer inserted in the center comes out with only a few moist crumbs attached, 1 to 1-1/4 hours. Let cool on a wire rack for 15 minutes, then remove from the pan and let cool completely on the rack, about 2 hours.
To glaze and garnish the cake, combine Confectioners' sugar and 1 tablespoon buttermilk in a small bowl, stirring until completely smooth. Place the cake on a serving plate and drizzle the glaze over the top; garnish with chocolate chips while the glaze is still moist.
Make Ahead Tip:
Prepare through baking up to 1 day ahead. Glaze and garnish shortly before serving.
Adapted from: Eating Well, October/November 2006
Notes
PointsPlus™ Value: 6 (1 slice per serving)
http://mybakingheart.com/2011/11/28/glazed-chocolate-pumpkin-bundt-cake/