Originally chosen for January 29, 2008, just a few short months before I joined the wonderful world of 'TWD'. I'm unsure as to who hosted then and since we were all posting the recipes at that time, I'm reposting it for you here today. In addition, I sprinkled in a little ground cinnamon and cloves to marry well with the citrus and berry aspects. All in all, this was a perfect start to what will surely be a hectic Thanksgiving week! But, what would the holidays be without a little anxiety?? 🙂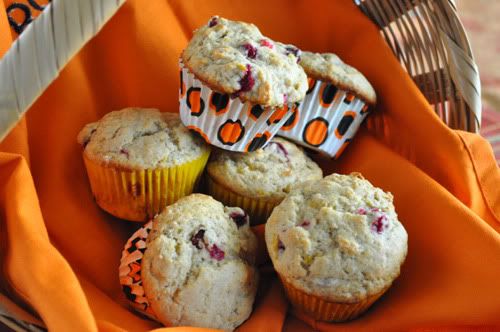 Orange Cranberry Muffins (pg. 3)
Adapted from: Baking – From My Home to Yours by Dorie Greenspan
Grated zest & juice of 1 orange
About 3/4 c buttermilk
2 lg eggs
3 tbsp sugar-free honey
8 tbsp unsalted butter, melted & cooled
1/3 c granulated sugar
2 c all-purpose flour
2-1/2 tsp baking powder
1/4 tsp baking soda
1/4 tsp Kosher salt
1 tsp ground cinnamon
1/8 tsp ground cloves
1 c fresh cranberries
Decorating sugar, for topping (optional)
Center a rack in the oven and preheat the oven to 400 degrees F. Butter or spray the 12 molds in a regular-size muffin pan or fit the molds with paper muffin cups. Alternatively, use a silicone muffin pan, which needs neither greasing nor paper cups.
Pour the orange juice into a large glass measuring cup or a bowl and pour in enough buttermilk to make 1 cup. Whisk in the eggs, honey and cooled, melted butter. In a large bowl, rub the sugar and orange zest together with your fingertips until the sugar is moist and the fragrance of orange is strong. Whisk in the flour, baking powder, baking soda and salt. Pour the liquid ingredients over the dry ingredients and, with the whisk or a rubber spatula, gently (but quickly) stir to blend. Don't worry about being thorough – the batter will be lumpy and bubbly, and that's just the way it should be. Stir in the cranberries. Divide the batter evenly among the muffin cups.
Bake for 18 to 22 minutes. If you want to top the muffins with decorating sugar, sprinkle on the sugar after the muffins have baked for 10 minutes. When fully baked, the tops of the muffins will be golden and springy to the touch and a thin knife inserted into the center of the muffins will come out clean. Transfer the pan to a rack and cool for 5 minutes before carefully removing each muffin from its mold.