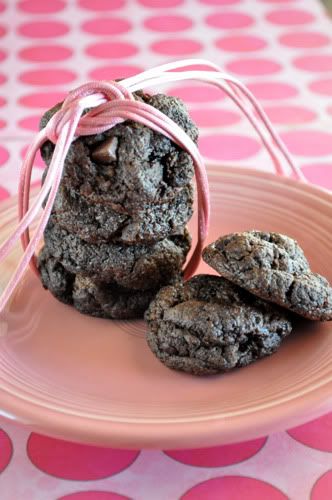 My adorable friend, Amy of Sing For Your Supper, is expecting a sweet little girl in just a few short months (January to be exact!), so along with several fellow Nesties, we're celebrating today with a virtual shower, hosted by Kelsey of Apple A Day.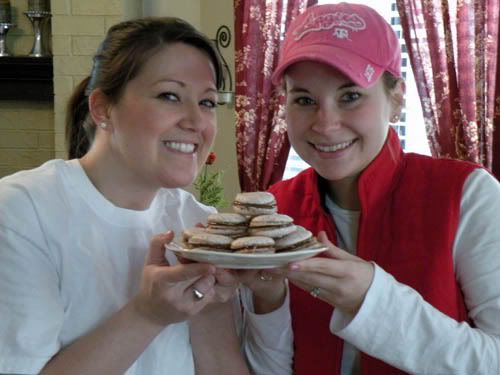 Cassidy Grace (don't you just love that name?) will be here before we know it, and I can't wait until the day I meet her. Amy and I became fast friends almost four years ago. Together we've conquered macarons, rocked out to John Mayer (live!) and met our baking idol, Dorie Greenspan. She is a special, special friend and I am so happy for her and this next, exciting chapter of her life!
My contribution to the sweets table are these Chocolate Gooey Butter Cookies from Paula Deen. Amy's a fan of chocolatey gooey-ness (just check out her Brownie Pudding), so I know that she'd fall hard for these. They're fudgy and buttery… just perfect with a big ol' glass of milk! 🙂
To check out the Round-Up, click over to Kelsey's blog where she's featuring all the yummy treats from today's shower!! Or head over to Amy's blog where's she has a Round-Up posted as well!!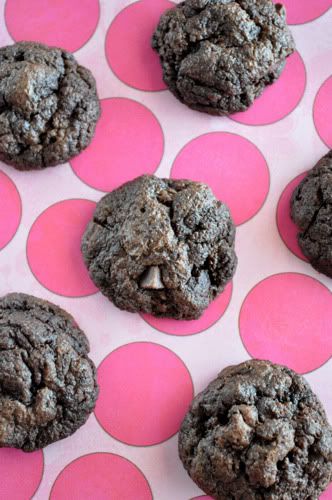 Chocolate Gooey Butter Cookies
Adapted from: Paula Deen
1 (8 oz) pkg cream cheese, at room temperature
8 tbsp unsalted butter, at room temperature
1 lg egg
1 tsp pure vanilla extract
1 (21 oz) box Duncan Hines 'Decadent Triple Chocolate' cake mix
In a large bowl with an electric mixer, beat the cream cheese and butter until smooth. Beat in the egg. Then beat in the vanilla extract. Beat in both bags of the cake mix until it is fully incorporated. Cover and refrigerate the dough for at least 2 hours or overnight.
Preheat the oven to 350 degrees F and line two cookie sheets with parchment paper. Set aside and begin to roll the chilled batter into tablespoon-sized balls. Place balls on the cookie sheets at 2 inches apart. Bake for 10-12 minutes. The cookies will remain soft and gooey, as the name suggests. Cool completely and sprinkle with sparkling sugar, if desired.
Best Wishes to Amy, Joel and Miss Cassidy Grace!!