I apologize for how long it's taken me to get this post together. Since arriving home late Tuesday night, I've delayed putting into words just how extraordinary this past weekend was. Editing the thousand-plus photos that Mom and I took together didn't help my deadline, but reliving the trip through each of those photos was just the kick-in-the-pants that I needed. I expected a good time, sure, but I had no idea just how gratifying this trip would turn out to be for me. 🙂
Ferry Building Fun!
From the moment Momma G and I stepped off the plane, it was GO, GO, GO!! We met up with four of the sweetest gals I've ever had the pleasure of knowing and hit the Ferry Building next to the Bay Bridge, just east of Downtown San Fran. We lunched, shot photos and even ran into Martha Stewart (who was rocking some sleek black leather pants!).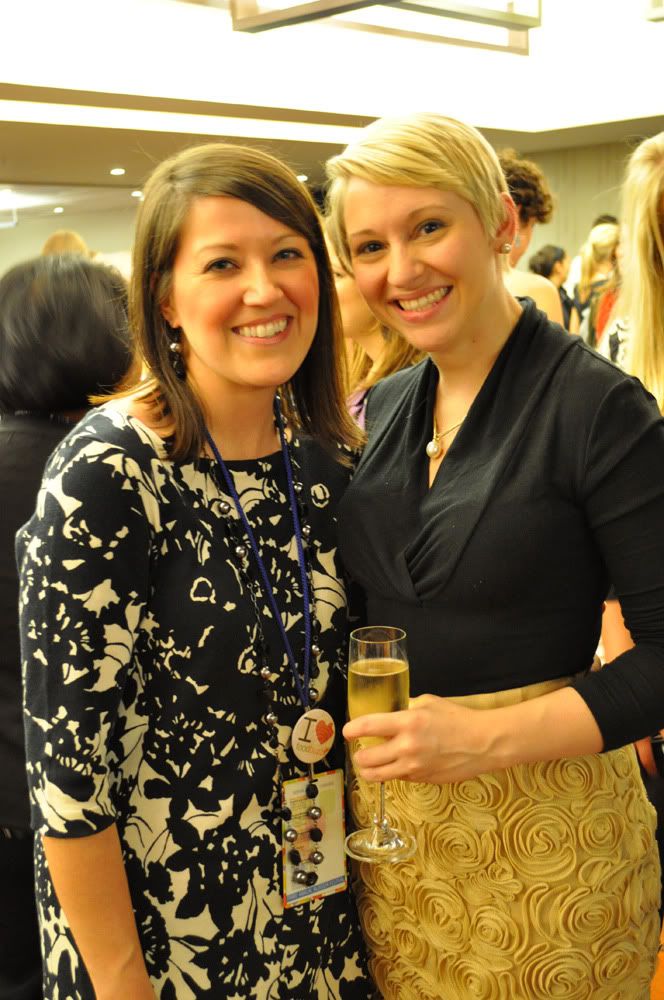 You see that look on my face? I can't even begin to describe how excited I was to be at Miette!! There were no recipe books available, so I picked up a sleeve of ("the world's best") Gingersnaps instead, on the glorious advice of my adorable friend Kimmie, of Full Circle Foodie, who used to live in San Fran. This chica is a fellow Texan, a huge supporter of the Rangers and a fab blogger… my kind of gal! 😉
Above was Friday night's 'Welcome Reception & Awards Dinner' at Terra Gallery (thanks for the photo, Joelen!). Tons of great appetizers, yummy drinks and new friends! Top Row, from L to R: Moi, Jessica of Forgiving Martha (an Austinite!), Jessica of Sunny Side Up in San Diego, Courtney of Pancakes and Postcards, Cate of Cate's World Kitchen and Nikki of Pennies On a Platter. Bottom Row, from L to R: Krystal of Mrs. Regueiro's Plate, Joelen of What's Cookin', Chicago? and Courtney of The Granola Chronicles.
During Saturday's afternoon 'Tasting Pavilion' at the Metreon, we stuffed ourselves silly on chocolates, cheeses, coffees, breads, candies, seafood, beers, wines and even hugged on Tyler Florence (while he seriously told me that I was gorgeous – no lie). He's pretty gorgeous himself, don't ya think??
Our Gala Dinner that night was the icing on the cake. Tyler and Alexia Foods hosted a demonstration on seared pork chops, while we feasted on bibb salads, steaks and a trio of native San Fran desserts. Two more super-sweet 'What's Cooking' Nesties jumped in for this shot (courtesy of Mara!)… Mara of I Made Dinner and Nicole of Prevention, R.D.!!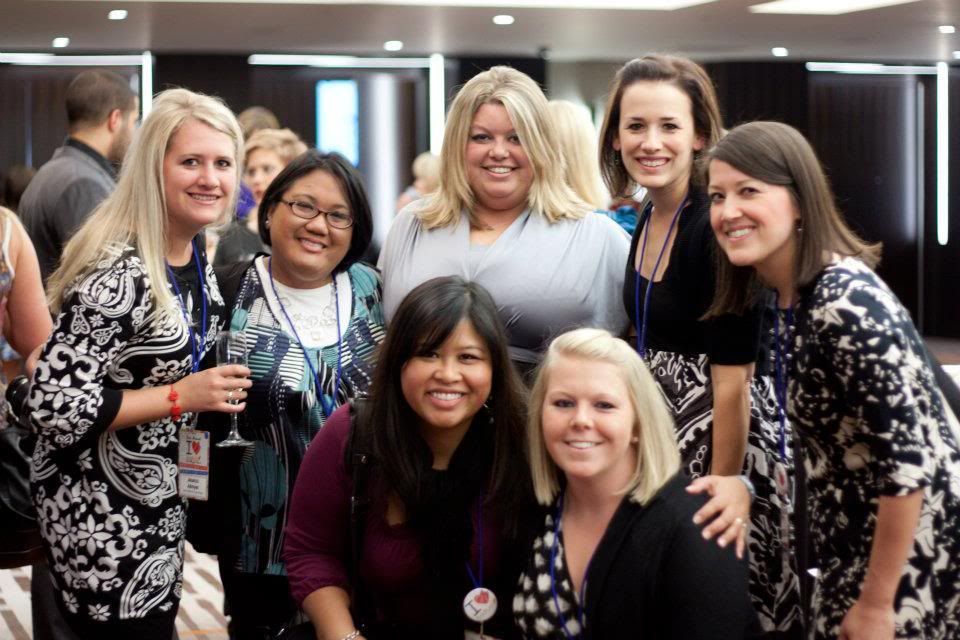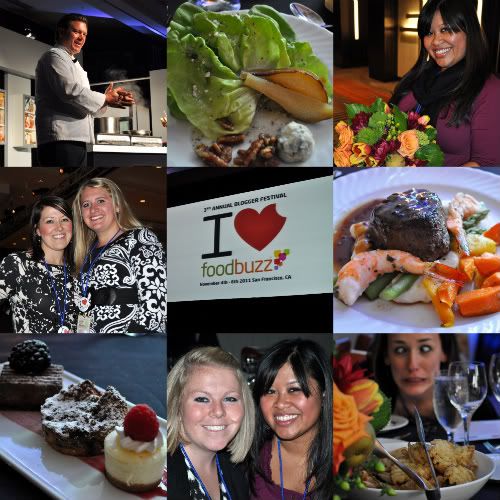 Um, did I mention I also met Joy the Baker?? Total greatness.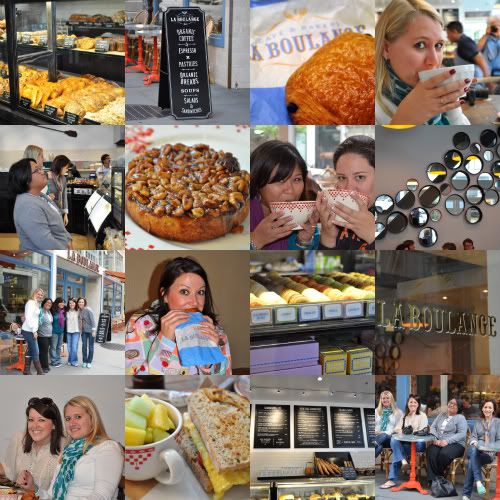 We spent our last morning together brunching at La Boulange, along with Momma G and Krystal's fabulous friend, Yvette. And as I exited the elevator back at the hotel and the gals made their own journeys home, I quickly wiped away the little tears that were beginning to spring up. If that's not a good indicator of how much these friendships mean to me, I don't know what is.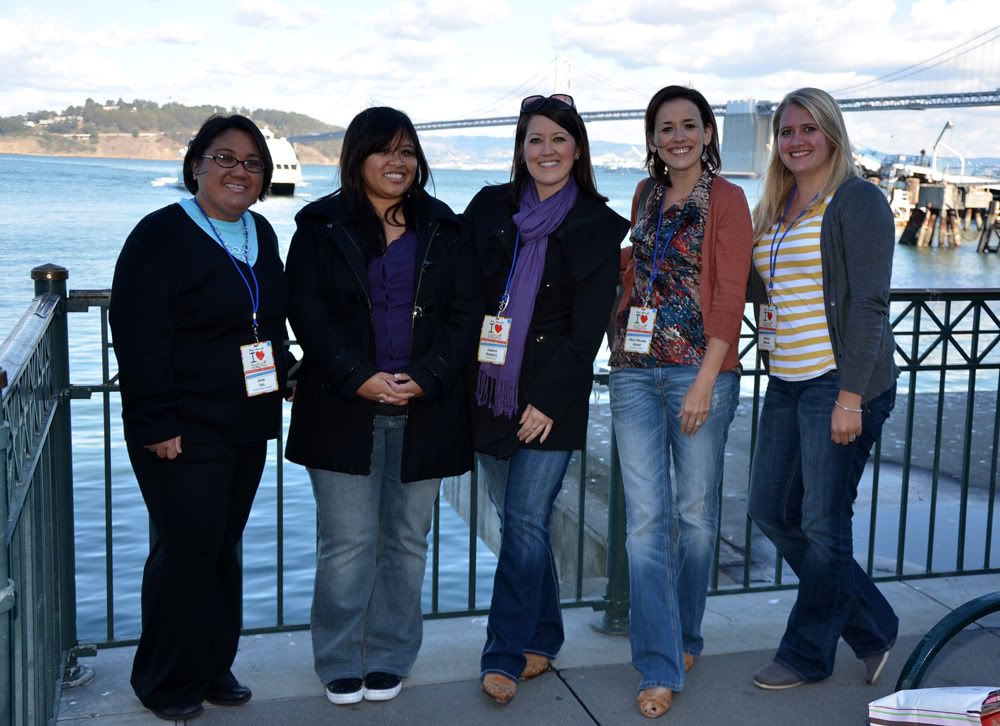 I've spent the last four years chatting with these gals online… sharing recipes, asking for tips, commenting on their blogs, talking about our families, etc. And within the span of three short days, I made lifelong friends.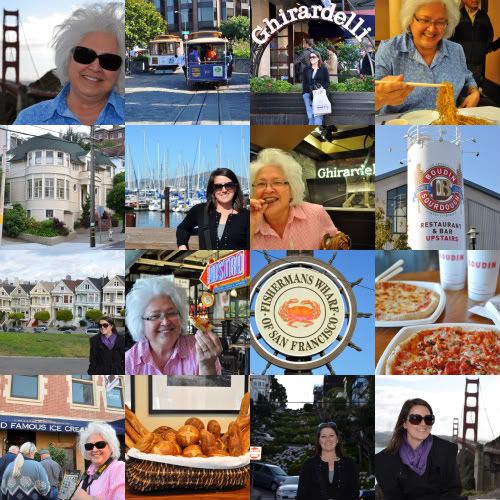 We crammed so much into those five days that it was hard to pick and choose the photos I'd share with you here. So, if you're interested in clicking through the 246 photos in my Photobucket album, please be my guest…
Tony Bennett said that he left his heart in San Francisco. Me? I left my lens cap. As for my heart? It was here in Texas, where C was keeping it safe until I returned. 🙂