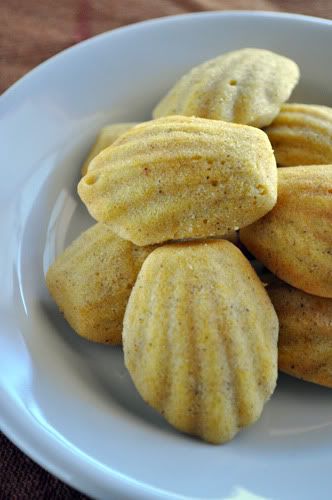 As this post goes live, I'm preparing to leave behind San Francisco and one of the most amazing weekends of my life. I spent the last five days sightseeing and attending the 2011 Foodbuzz Festival in the Golden Gate City with Momma G. Talk about Foodie Heaven… it was filled with incredible food, history, big fun, lots of laughs, celebrity sightings and the pleasure of meeting some of the most fabulous ladies in the world. It's one thing to 'know' them online, but it's entirely another to meet them in real life. If you don't already read these beautiful blogs, you should: What's Cookin', Chicago?, Pennies On a Platter, Sunny Side Up in San Diego, Mrs. Regueiro's Plate, Prevention, R.D., I Made Dinner and Cate's World Kitchen. I'll definitely have a post dedicated to the Festival up in a bit… just as soon as I can hop off this plane and give C a huge hug and kiss! 🙂
For now, it's about these gorgeous mini pumpkin madeleines! Since I had an open can of pumpkin in the fridge, I knew it'd be the perfect addition to this recipe. Along with the ingredients Dorie calls for, I added 1-1/2 teaspoons of pumpkin pie spice, 1 teaspoon of ground cinnamon and a pinch of cloves, as well as 2 tablespoons of pureed pumpkin. Perfect for Fall and a sweet little reminder that Thanksgiving is just around the corner!
Huge thanks to Di of Di's Kitchen Notebook (a fellow Texan!) for serving as our hostess this week. If you'd like the recipe to Dorie's original Mini Madeleines, click over to Di's blog, where she has it listed. And if you're in the mood to browse through the other bakers' posts, head over to TWD and check out the 'Leave-Your-Link' post!
Mini Pumpkin Madeleines (pg. 172)
Adapted from: Baking – From My Home to Yours by Dorie Greenspan