It's been a little while since I served this to our friends, but it was so incredibly good that I just have to tell you about it.
This casserole has made the rounds on the message boards of WeightWatchers.com, but only a few members have blogged about it. I first saw it on 'Emily Bites' and was intrigued by the name. We love our enchiladas around here and it looked like the perfect weeknight meal to prepare after a long day at work. Don't let the yield fool you, though. It says 6-8 servings, but there's enough here to feed an army. Well, maybe not an army, but at least enough to last you over the weekend… until I can return home from San Francisco to post about the 2011 Foodbuzz Festival! Have a fabulous weekend and I'll see you on Tuesday!! 🙂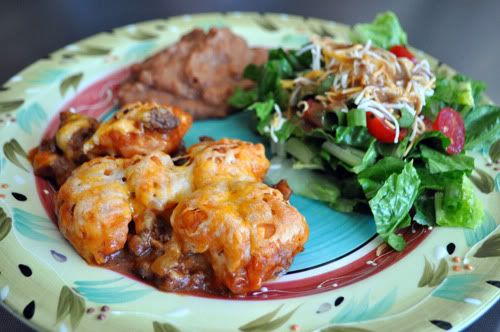 Bubble-Up Enchilada Casserole
Ingredients
1 lb ground bison
1 (10 oz) can enchilada sauce
1 (8 oz) can tomato sauce
2 (4 oz) cans chopped green chiles
1 can reduced-fat refrigerator biscuits
1-1/2 c shredded low-fat Mexican cheese
Instructions
Preheat oven to 350 degrees F and spray a 13" x 9" casserole dish with non-stick spray. Brown the bison in a large skillet and drain if needed. Add the cans of enchilada sauce, tomato sauce and chiles, then stir to combine. Cut the refrigerated biscuits into fourths, then stir them into the meat mixture.
Add the mixture evenly to the casserole dish and bake for 25 minutes. Remove from the oven and top with the cheese, then bake an additional 10 minutes. Let the casserole stand for 5 minutes before serving.
Adapted from: WeightWatchers.com & Emily Bites
Notes
http://mybakingheart.com/2011/11/04/bubble-up-enchilada-casserole/