Ah, November 1st. If you're anything like me, you've got a ton of candy lying around the house that didn't make it out the front door last night (or into your pocket for a mid-day treat!). So, what to do with all of those extra sweets? Make candy bark with it!
Anything goes with this sugary recipe… white chocolate, dark chocolate, peanut butter-filled cups, Snickers, candy corn, dried fruit, pretzels, nuts, M&Ms, yogurt-covered raisins… you name it, it'll fit the bill! And your co-workers will love you for it, too. 🙂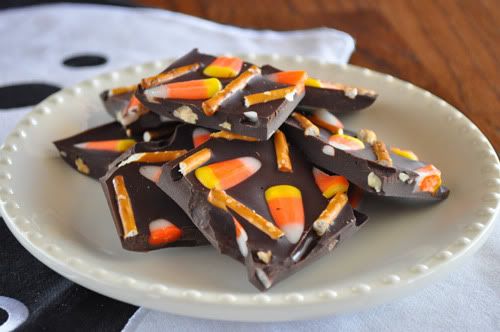 Candy Corn & Pretzel Bark
Ingredients
8 oz dark chocolate, melted
1 c pretzel sticks, broken
1/2 c candy corn
Instructions
Line an 8-inch square baking pan with parchment paper, leaving an overhang on all sides. Pour the melted chocolate in the prepared pan; tilt the pan to make sure the chocolate spreads evenly. Sprinkle pretzels and candy corn on top.
Chill in the refrigerator until firm, then remove from the pan and break into pieces.
Adapted from: Real Simple
http://mybakingheart.com/2011/11/01/candy-corn-pretzel-bark/