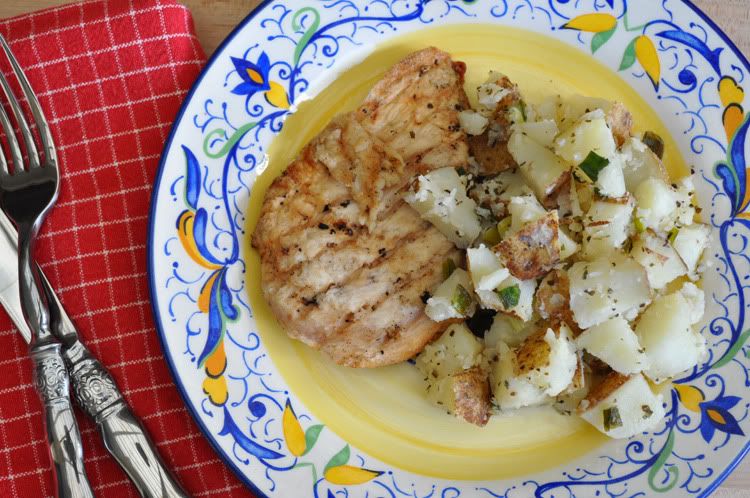 Post number 500 is a fabulous, quick & easy dinner dish! It's time for another round of the Idaho® Potato "Recipe of the Month" Photo Contest, kids…
"Chicken & Potato Piccata is sure to become an instant family favorite – not only does it taste great, it's easy to prepare! Made with lean chicken breast and favorite flavors like lemon, olive oil, basil, parsley and, of course, Idaho® potatoes, it's a tasty and satisfying one-dish meal that's perfect for any weeknight family dinner."
Sounds good, right? It was… and it made enough for me and the neighbors next door, too. I had enough time to fit in a run, paint my nails and catch up on Real Housewives. I just love quick & yummy dinners!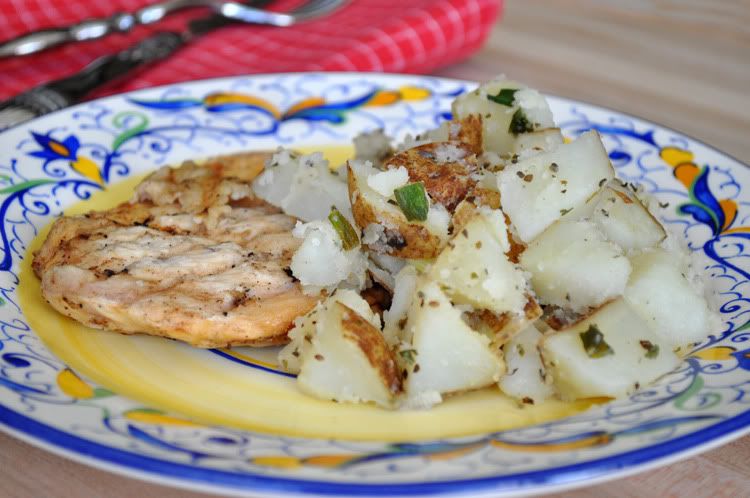 Chicken & Potato Picatta
Source: Idaho Potato Commission
1-1/3 lbs (4 medium) Idaho® Potatoes
1 tbsp olive oil
4 green onions, sliced
3 tbsp lemon juice, divided
2 tbsp grated lemon peel, divided
2 tsp dried basil leaves
4 (6 oz) boneless, skinless chicken breast halves
1/4 c chicken broth or bouillon
1/4 c chopped parsley
Salt and pepper, to taste
Pierce potatoes with tines of fork; microwave on HIGH for 6 minutes. Let cool for 2 minutes then cut into 1/2-inch chunks. Spray a 12-inch nonstick skillet with vegetable cooking spray; heat oil in skillet over medium-high heat. Place potatoes in skillet cut sides down; cook, turning occasionally, about 6 minutes, until cooked through and golden brown. Mix in onions, 1 tablespoon each of the lemon juice and peel, and the basil; cook and toss 2 minutes. Season with salt and pepper. Remove from skillet; keep warm.
Spray skillet once again with vegetable cooking spray; heat skillet over medium heat and add chicken. Cook about 10 minutes until chicken juices run clear, turning once. Raise heat to medium-high; deglaze skillet with broth, scraping up any bits left on bottom of pan; stir in parsley and the remaining 2 tablespoons juice and 1 tablespoon peel. Season with salt and pepper. Return potatoes to skillet; toss to heat through.
~~~
Here's hoping the IPC loves my photos!