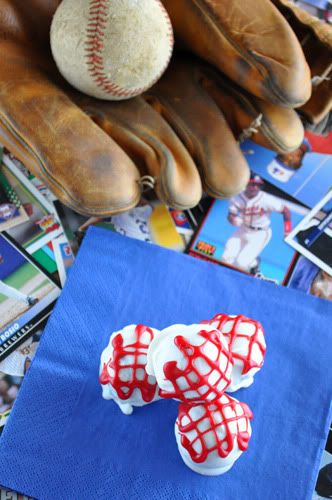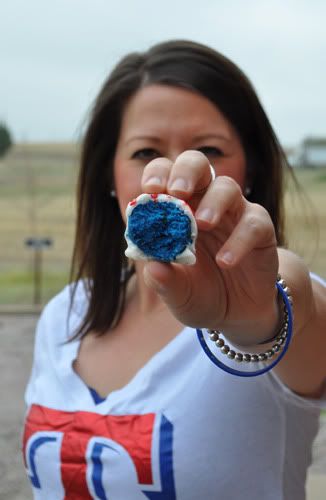 In the famous words of Chuck Morgan, "It's Baseball Time in Texas", my friends. The World Series is here again and this year, it's our time!
I had to top my 'Captain' Cupcakes somehow, so this postseason, I went bold with a true Texas Rangers Blue! My inspiration came from Sprinkle Bakes' Blue Velvet Cupcakes… and I couldn't be more happy with the way they turned out!
We enjoyed these as last night's Game 4 came to an amazing close – we were happy, full from a delicious dinner of steaks & shrimp and high on life! Still not sure if our "high" came from the game or the sugary sweetness of these cake balls, but nonetheless, it was a great feeling! 🙂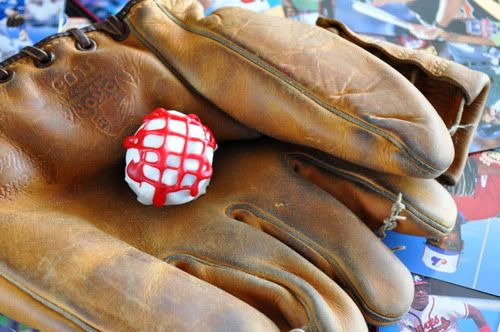 Blue Velvet Cake Balls
Cake recipe adapted from: Sprinkle Bakes
Yields: 24 cake balls
1 c granulated sugar
8 tbsp unsalted butter, at room temperature
1 lg egg
1/2 tbsp cocoa powder
1 tbsp Wilton royal blue gel food coloring
1 small dab of Wilton violet gel food coloring
1-1/4 c cake flour
1/2 tsp Kosher salt
1/2 c low-fat buttermilk
1/2 tsp vanilla extract
1/4 tsp baking soda
1/2 tbsp vinegar
1/4 can cream cheese frosting
1/2 to 3/4 c Wilton white candy melts
Preheat oven to 350 degrees F. In a mixing bowl, cream the sugar and butter, mix until light and fluffy. Add the eggs 1 at a time and mix well after each addition. Add food colorings to sugar mixture and mix well. Sift together cocoa powder, flour and salt. Add flour mixture to the creamed mixture alternately with buttermilk. Blend in vanilla. In a small bowl, combine baking soda and vinegar and add to mixture.
Pour batter into 8″ cake pan. Bake for 25-30 minutes, or until a toothpick inserted into the center comes out clean. Remove from oven and cool completely before proceeding.
After cake has completely cooled, crumble into large bowl. Mix thoroughly with 1/4 can of cream cheese frosting. Roll mixture into quarter size balls, then sit them on a wax paper-lined baking sheet. Chill for several hours; either in the refrigerator or freezer.
After chilling, melt Wilton candy melts in the microwave (or on the stovetop set on LOW) per directions on package. Dip the balls into your melted candy and when removing, twist your wrist so that the candy drips off smoothly. Lightly tap your wrist if there is any excess. Let the cake balls harden, using the same wax paper-lined baking sheet. You can also chill once more if they're not being eaten within a few hours.
Here's to Game 5 and another fabulous win… GO Rangers!!