Corn Soup and Fry Bread are a must together. Since I've spent many a weekend at powwows, either dancing or singing, I'm used to dining on this typical Native American fare.
With a grandmother that was full-blood Comanche Indian and a mom who was 3/4, I was raised in the Indian way. Naturally, it wasn't exactly as it should have been, seeing that I live in a contemporary Anglo world. There aren't many Indians living in our area, but we did (and still do) travel back to Central Oklahoma for dances and family gatherings. Lawton was where my mother grew up… learning bits and pieces of the language, how to make clothes and how to cook like her mother did. Unfortunately, I never had the opportunity to meet my Grandmother Grace, as she passed away before I was born. But my mom still keeps her recipes in a safe place, and it was there that I got my hands on this one.
I've been wanting to make Fry Bread for quite a while, so when I put together my '30 Before 30′ list, it was the perfect food to tackle. It's some of the best bread you'll ever eat. Especially, if you eat it like Momma G… dipped in a mix of peanut butter & syrup!
Fry Bread
Source: Grandma Grace
Yields: 15 pieces
4 c all-purpose flour
1 tbsp powdered milk
1 tbsp baking powder
1 tsp salt
2 c warm water
Shortening or oil for frying
Whisk the flour, powdered milk, baking powder and salt together in a large bowl. Slowly add water and with clean hands, begin to mix the dough, trying to get all of the flour incorporated. Knead until soft, then cover with a kitchen towel and set aside for about one hour.
When you're ready to begin frying:
Using a large dutch oven or stew pot, heat shortening or oil to 350 degrees F (your oil should be about 2 inches deep). Grabbing and tearing off a baseball-sized piece of dough, shape into a small, flat circle (the inside of the circle should be sticky after being formed, while the outside will be well floured). Using a sharp knife or both thumbs, make a slit or hole in the center of the circle. Take the circle and gently lay it in the oil, away from you, being careful not to splatter the hot oil. Fry until a golden brown color is reached, then flip to fry the other side. Each side will take about 3 to 4 minutes. Remove from oil and drain in a container lined with foil, then paper towels.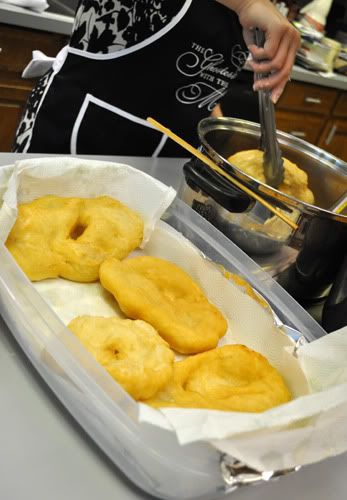 If you're more of the mix type (or you're out camping and convenience is your thing), there is a fantastic prepared mix sold by Crazy Crow Trading Post. It's available in two-pound bags and priced at $4.95 (with a quantity break, as well!). I get my dried corn here, too!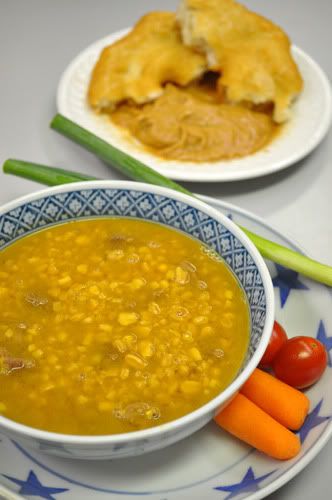 Corn Soup
Source: Momma G
8-10 c water
3 lbs boneless rib meat (beef, buffalo or venison will do)
2 boxes Cope's Dried Sweet Corn
In a large dutch oven or stew pot, bring 4 to 6 cups of water to a boil. Cut meat into bite-size chunks and place in water.
Bring water back to a boil and cook for about 30 minutes. Add both boxes of dried sweet corn to the meat. Bring back to a low boil and cook for 2 to 3 hours, adding water when needed (liquid should cover meat and corn at all times).
If you want a more soup-like consistency, add more water about 30 minutes before the meat and corn are done.